LIVE WELL @ WORK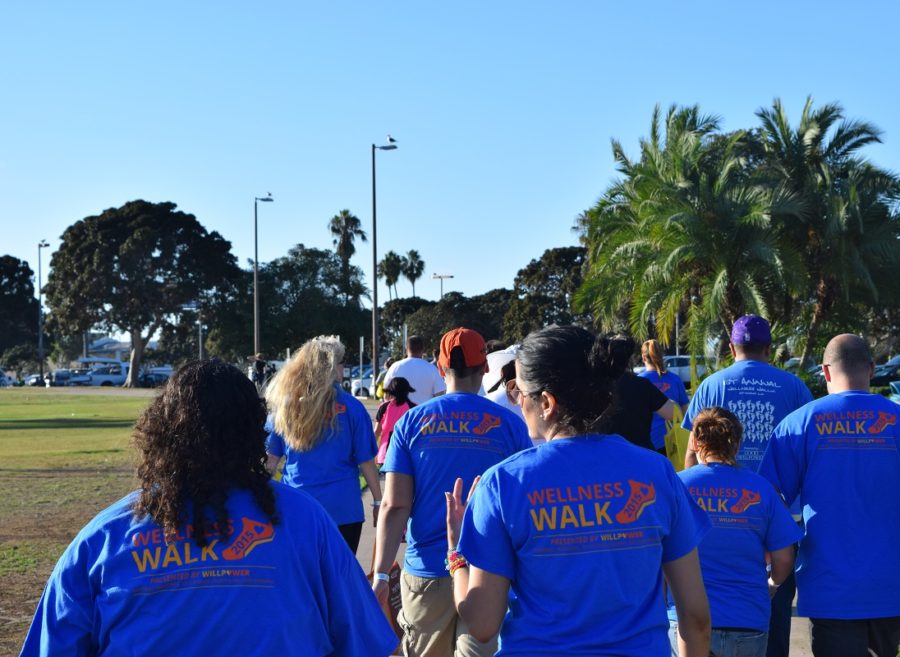 Live Well @ Work collaborates with local San Diego businesses to build a culture of health and foster a healthier, happier, and more productive workforce. Live Well @ Work is a program of Live Well San Diego, the County of San Diego's strategic vision for a healthy, safe, and thriving region. Live Well @ Work has partnered with the business community throughout San Diego County for over ten years to provide businesses with direct support in creating healthier workplace environments that are supportive of healthy eating, active living, and lactation accommodation. The initiative prioritized supporting low-wage industries such as non-profit, hospitality, education, government, and healthcare where employees often face disproportionally higher rates of health disparities. All services and resources were provided at no cost in an effort to engage those employers who traditionally have limited employee wellness programming and minimal funds to support their efforts.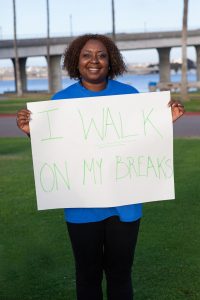 In an effort to transform the workplace environment and culture, the initiative uses evidence-based tools and resources to ensure that healthy choices are accessible for all employees. Live Well @ Work aims to engage all levels within an organization to improve employee health and prevent chronic disease through education, engagement, and environmental and policy changes. By creating a healthier workplace environment, businesses can improve recruitment and retention of healthy employees, reduce healthcare costs, increase productivity, and decrease worksite injuries and sick days.
REACH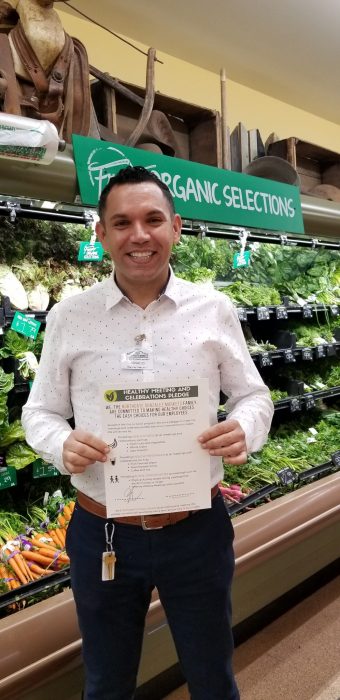 In total, Live Well @ Work recruited 27 employers to participate in the initiative, directly reaching 211 worksites and 12,968 employees (+7,000 low-wage earners). Each employer was provided in-person support to complete completed an organizational assessment and developed strategic action plans to increase access to opportunities for physical activity in the workplace, to improve the healthy food environment, and to support lactation accommodation. Across all Live Well @ Work sites, policy, system, or environmental change strategies were adopted by 9 employers to increase opportunities to physical activity in the workplace, 14 employers to improve healthy workplace food environments, and 5 employers to support lactation accommodation.
Live Well @ Work utilized a holistic approach to program planning and implementation to engage the business community in partnership with human resources departments and organizational wellness leads. The initiative standardized a comprehensive employer engagement model to support employers in developing or strengthening their wellness programs. Live Well @ Work utilized the following steps: 1) Assessment & Planning 2) Engagement; 3) Education; 4) Environment & Policy Changes; and 5) Re-Assess.
KEY STRATEGIES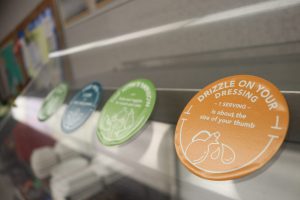 Live Well @ Work offered support to San Diego employers on key focus areas including creating a culture of health in the workplace, improving the worksite's food environment, increasing opportunities for physical activity in and around the workplace, as well as creating policies and dedicated rooms to support lactation accommodation. The following evidence-based strategies were used to support employer's workplace wellness efforts:
1.            Walk Well: Creation and installation of employee walking paths on or surrounding worksites' campuses through signage and wayfinding maps.
2.            Meet Well: Implementation of guidelines for work-sponsored meetings, events, celebrations, and fundraisers that focus on healthy food and beverages, food safety, green and zero waste, physical activity, tobacco-free environments, and lactation accommodation.
3.            Nourish Well: Support for lactation accommodation policies and programs in the workplace, including designated wellness rooms.
4.            Step Well: Promotion of safe stairwells to encourage employees to take the stairs in place of using the elevator throughout the workday through point-of-decision prompts.
5.            Drink Well: Improved access to and promotion of safe, fresh drinking water in all worksite locations and settings.
6.            Eat Well: Adoption of nutrition standards that prioritize fresh, seasonal, and nutrient-dense food where meals and snacks are prepared, available, or sold.
 To learn more about how Live Well @ Work engages organizations, visit our 'Services' page.
The Live Well @ Work Initiative is a project of Live Well San Diego: Healthy Works and implemented by University of California, San Diego Center for Community Health. This work supports Live Well San Diego, the County's vision of a region that is Building Better Health, Living Safely, and Thriving. Funded in part by the Centers for Disease Control and Prevention and in part by USDA SNAP-Ed, an equal opportunity provider and employer.