Sheila Gahagan, MD, MPH, Professor of Clinical Pediatrics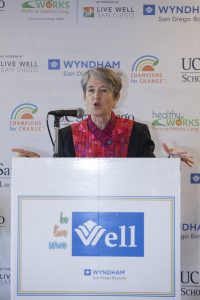 Dr. Sheila Gahagan's research projects are focused on early life risk for childhood and adult disease. She has focused on the complex determinants of developing obesity and the consequences of this condition depending on when it first emerges. She is an expert at longitudinal research and has focused on the period spanning infancy to early adulthood. These research projects highlight interdisciplinary collaborations, underscoring the importance of approaching complex questions from multiple paradigms. Research themes include: Biological and psychosocial determinants of adolescent obesity/cardiovascular risk, early growth & child development, health disparities, and developmental origins of health and disease.
Opportunities are available for research training with our team and secondary data analysis projects related to early life risk for adult disease. Please see the "get in touch" section.
Complete list of published work in My NCBI "My Bibliography" below:
http://www.ncbi.nlm.nih.gov/sites/myncbi/sheila.gahagan.1/bibliography/40452345/public/?sort=date&direction=ascending
DR. GAHAGAN Funding ACKNOWLEDGMENTS:
National Institutes of Health:
2. Heart, Lung, and Blood Institute: HL088530 (Gahagan) and R01HL117860 (Gahagan and Villamor)
3. National Institute of Child Health and Human Development: HD14122 and HD33487 (Gahagan and Lozoff)
4. American Heart Association: 15GRNT25880008