We are aware of the continued challenges both food producers and eaters are encountering in relation and response to COVID-19. Please see below for information on sourcing locally grown food and supporting San Diego farmers (particularly urban farms and farms or gardens owned or operated by BIPOC and women) via Community Supported Agriculture (CSA), farm stands, and other local direct-to-consumer agriculture products.
---
About
We're assisting farmers' market operators in making locally-grown good food available to more low-income households in San Diego County, particularly for communities of color.
UC San Diego Center for Community Health is now implementing Farmers' Markets for All. This initiative supports farmers' market operators extend their reach to provide fresh and locally grown good food to more people in need.
We offer free technical assistance and training to farmers' market operators in San Diego County. Specifically, we provide support on: Applying for and managing food assistance programs onsite at the farmers' market (WIC, Market Match, CalFresh EBT, Senior FMNP), healthy food and beverage vendor outreach, and providing healthy eating and active living tips for shoppers to promote buying locally grown food, preparing and cooking what's in season, and walking and biking to the farmers' market.
---
Lemon Grove Farmers' Market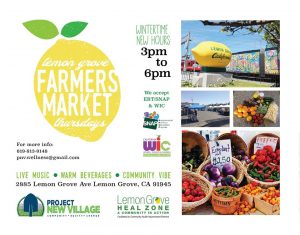 In 2020 we're working with Project New Village at the Lemon Grove Farmers' Market to:
Promote and increase usage of CalFresh EBT
Recruit and retain more farm vendors
Recruit and retain more healthy prepared food vendors (e.g. bread, salsa, etc.)
Provide engaging nutrition education activities for shoppers
Assist with COVID-19 modifications to ensure health and safety for shoppers and vendors
---
---
This work supports Live Well San Diego, the County's vision for a region that is Building Better Health, Living Safely, and Thriving. For CalFresh information, call 2-1-1. Funded by the USDA SNAP, an equal opportunity provider and employer. Visit www.calfreshhealthyliving.org for healthy tips.