"Adopting [physical education] at Julian Elementary School has enhanced how I present physical education to my students… The two immediate changes that I have noticed is in the student engagement into each activity and the increase in vigorous activity that the physical education time now offers. I was delighted to see students play a game at recess that they had learned in [class]!…" – Marisa McFedries, 5th grade teacher.
"When I'm out on the playground I'm seeing less lap running and a whole lot of [physical education] activity." – Susi Jones, Executive Director, Julian Pathways, Julian Elementary Union School District.
"In a small, rural school such as ours, hard-working classroom teachers provide all physical education. The excellent SPARK curriculum and guidance from the UCSD team has been a leap forward in our program. Our students' health will be impacted for their entire lives." – Scot Copeland, Principal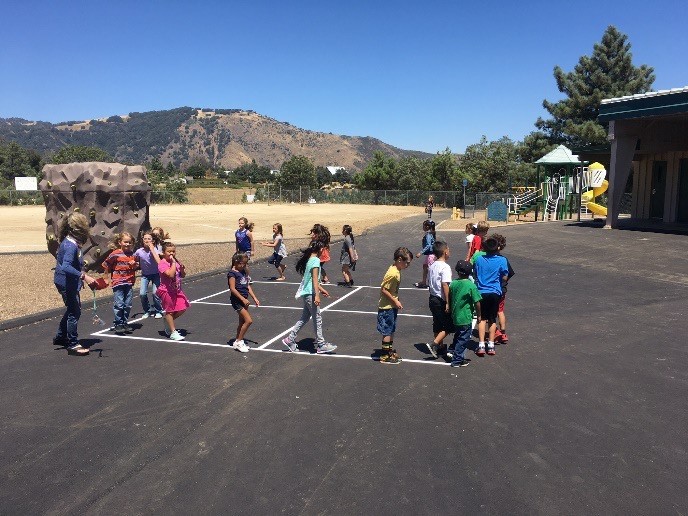 School-based physical activity and physical education can improve academic achievement, concentration, attention, and classroom behavior.1 The California Education Code requires that schools provide 200 minutes of physical education for first through sixth grade every ten school days.
Many elementary schools rely on classroom teachers to provide some or all of the required physical education. In addition to the multiple competing priorities teachers face daily, most classroom teachers have had little, if any, training to teach physical education. Schools identify numerous barriers that limit the quality and quantity of physical education provided, such as limited time to create and review lesson plans, low priority as a school subject, and inadequate financial and personnel resources.2
School Wellness has built comprehensive, multidimensional programming based on the unique needs of San Diego County's regionally diverse schools and districts for over 17 years. School Wellness helps elementary schools build their capacity to implement and sustain healthy eating and physical activity policies, systems, and environments that contributes to childhood obesity prevention and reduction.  During the current school year, School Wellness has focused its efforts on providing comprehensive physical education curriculum planning and support, including professional development and on-site assistance for teachers.
The classroom teachers at Julian Elementary School have embraced the opportunity to overcome the challenges to offer quality physical education by receiving support to not only enhance the quality of physical education, but to also sustain it.  School Wellness worked closely with the principal, wellness coordinator, and teachers to identify feasible options to address the challenges faced by many schools to implement quality physical education. Initially, School Wellness laid a foundation by providing two hours of professional development, curriculum materials, and some equipment. To build on this, technical assistance was provided during teacher's class time through role modeling, team teaching, and/or observing and additional booster trainings were provided. The school committed to implementing a consistent physical education schedule. Physical education seems more likely to sustain when teachers have the opportunity to integrate teaching strategies a little at a time. Teachers become comfortable implementing each strategy or activity until it becomes habit and then feels more confident to build upon that with a new strategy or activity. We often receive photos of a great physical education activity that Mr. Copeland sees as he walks through campus. The students' enjoyment is quite evident. School Wellness looks forward to continuing to provide support for physical education throughout the school year and developing a plan to sustain these efforts next school year.