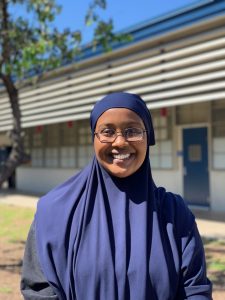 12th Grade at Crawford High School
Class of 2019
Why did you join the YAC? 
I joined the YAC because I had a curiosity about youth advocacy and overall health in my community. This program has been nothing but exceptional. Every meeting that I attend, I am surrounded by youth who just like me, are trying to find ways to improve our community and look for opportunities that will be nothing but beneficial for us.
How has your participation in the YAC helped you develop as an individual? 
Whenever I come to a meeting for YAC, I am challenged to do my best. I am encouraged to speak what I wish and believe in, in a respectful and professional manner. This program has helped me become more open minded to several point of views and truly learn the importance of having different perspectives and how our differences can truly make a stronger group. YAC has challenged my public speaking skills, helped me strengthen my comprehension, and has opened up several doors for me that has only helped me for the better.
What's your dream job?
My dream job is to become a world traveler food critic.
What's a quote that motivates you?
"No amount of guilt can change the past and no amount of anxiety can change the future."