About Us
Community Champions
Our Program empowers older adults to take a leadership role in their community center and local neighborhood. Older adults are valuable citizens who have many skills that can be harnessed to improve the lives of other older adults. Our Program develops community champions who are interested in training to fulfill a Peer Coach role to improve their communities and the health of others. Following training in community advocacy, citizen engagement, and behavior change the Peer Coaches lead a weekly walking group and work with local agencies to support the group through program incentives and improvements to walkability.
What We Do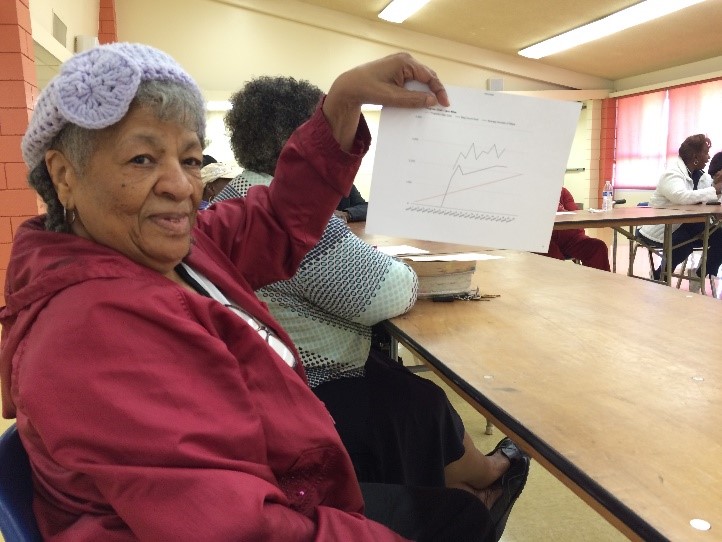 Not Just Talk – Action!
The Program is unique because it has an active presence in the community, which drives partnerships and walkability improvements. Well-attended bi-weekly walking groups are organized and tracked to support meaningful increases in physical activity in a population group who is in need of accessible health solutions. Members are engaged by challenging but achievable walking goals and are coached to overcome barriers to becoming more active. Members experience one to one support from the Coach and social support from the other group members in weekly meetings to share their progress.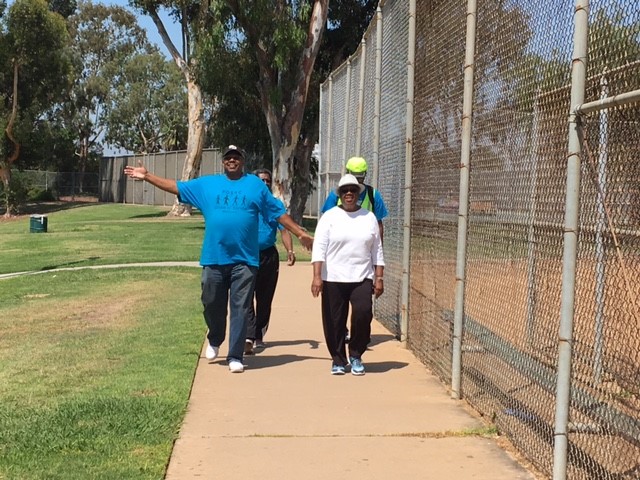 Not only do the weekly walks improve health outcomes, the visible presence of active older adults in the community is profound. Relationships with community partners are developed and walkability projects are achieved to ensure the safety and enjoyment of members. Community members see the walkers and are invited to join the group. Other community members feel safer knowing there is a group of older adults using community resources such as streets, centers, and parks. Their 'walking the walk' is inspirational to many.
Reducing Social Isolation
A growing problem for older adults is social isolation. The Program addresses this in several ways. 1) the community outreach to start a program draws new older adults to participate in  community center activities 2) the program is available for older adults of all functioning abilities so they feel they belong 3) the Peer Coaches meet one on one with participants and call them to encourage attendance 4) the comradery of the group is established through regular celebrations and post-walk coffees 5) deep friendships are formed and members look out for each other, for example, helping with transportation challenges or opening their home for holiday meals. While the program focuses on physical activity to improve health, most participants report their main reason for attending is the companionship. Walking y talking improves mental and physical health outcomes.
Improving Walkability
Our biggest concern is that older adults have a safe and supportive environment to walk in. The Program focuses on walking because this is the preferred activity for older adults, it increases physical activity levels in ways that other programs do not, and it gets older adults out in their community increasing their engagement and reminding community members of the important role older adults play in civic life.
In 2015, the Surgeon General released a call to action on 'Walkability and Walking', as the two go hand in hand. Our Peer Coaches are trained to identify environmental barriers to walking and to advocate to local agencies for improvements to be made. They have had numerous successes including increased crossing timings, new cross walks painted, sidewalks repaired and pedestrian crossing signs added. Such infrastructure improvements support all community members, not just older adults. This work also supports cities' Vision Zero plan, because older adults and children are the most vulnerable pedestrian groups, and the Climate Action Plan's goal to get more people walking in our urban core.
A Sustainable Program in Your Community
Our Program is built for sustainability. The Peer Coaches and from community centers are trained to keep members motivated and to entice new members to join. The training is delivered in such a way that Coaches can train new Coaches. Walking group members are groomed to take over different responsibilities so any workload is shared. The Peer Coaches engage with local businesses to provide incentives for group members, like t-shirts or celebration lunches. The Program outreach brings new members and increases attendance at local community centers.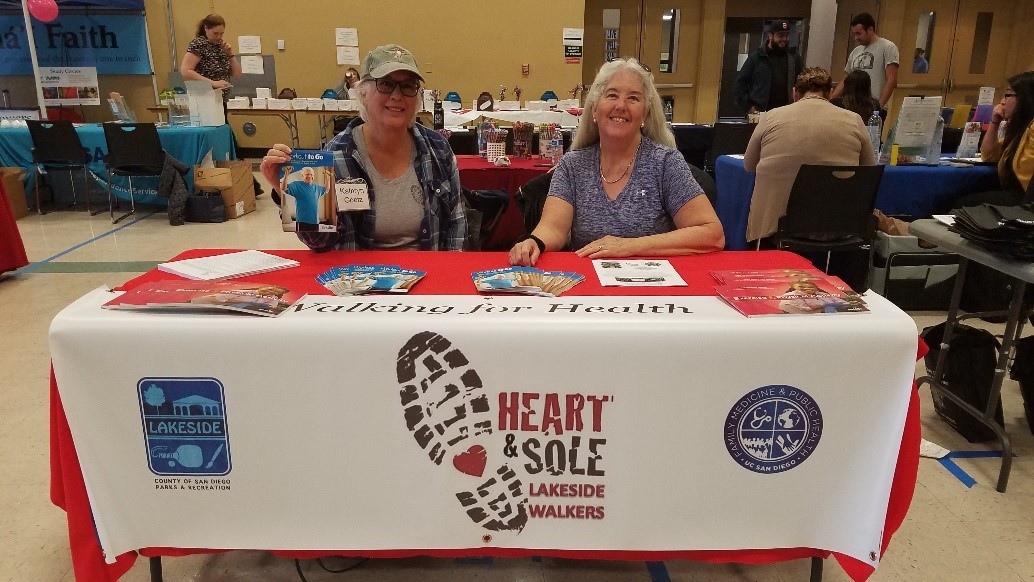 An Evidence-Based Program
We have spent many years developing and evaluating the Program with older adults and under the guidance of our Community Advisory Board, Peer Network and Peer Leadership Council. Our evidence has been informed by several pilot studies and two randomized clinical trials funded by the National Institutes of Health. The program has been active in numerous San Diego communities over the past decade and is still going strong! While we have seen statistically significant improvements in physical activity and reductions in blood pressure, the benefits reported by members in our many testimonials speak clearly to the impact of the Program on members' lives through increased social interaction, weight loss, improved energy levels, mental clarity, endurance and stamina.