About Us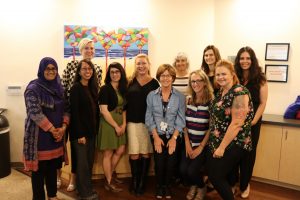 The Lactation Supportive Environments (LSE) project takes an upstream approach to obesity and disease prevention. Since 2010, LSE has been working to increase the number of settings (businesses, school districts, community healthcare centers, and childcare sites) that support lactation accommodations and breastfeeding-friendly environments.
Through technical assistance, which includes capacity building, partnerships, policy implementation, systems enhancements, staff training and environmental change strategies, LSE focuses on reducing barriers to the initiation and continuation of breastfeeding.
The LSE project brought awareness to all staff on the importance of making breastfeeding support a priority.  – Christine Toth, Lactation Consultant, Vista Community Clinic
To learn more about specific LSE projects click below
Get in Touch
Shana Wright Bruno, MPH
Project Director
Lactation Supportive Environments (LSE) is a project of Live Well San Diego: Healthy Works and implemented by UC San Diego Center for Community Health. This work supports Live Well San Diego, the County vision of a region that is Building Better Health, Living Safely, and Thriving. LSE is made possible with funding from First 5 San Diego through the County of San Diego Health and Human Services Agency.