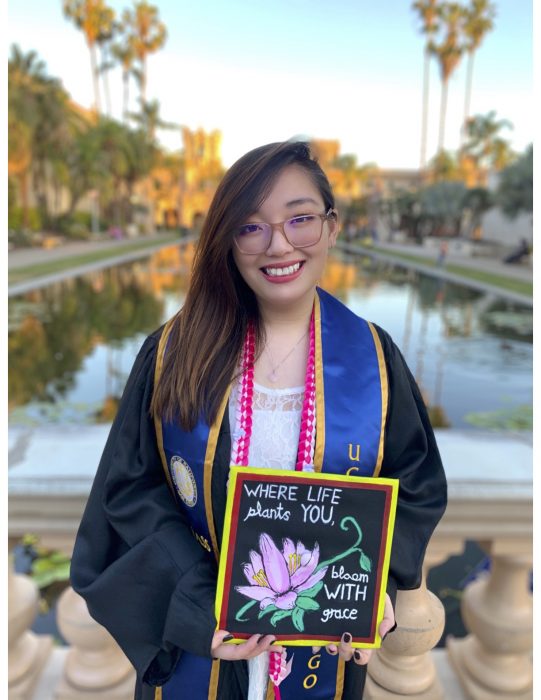 A former Youth Advisory Council member, Nghi Dang, sat down with us for a virtual interview about her experience in YAC, as well as her current plans and future goals post-graduation from UC San Diego.
Nghi became a YAC member the summer before her Junior year of high school as part of the first cohort group. She was hooked on the idea of implementing change in her community with peers that had a similar vision as her. Being part of this organization provided her a more diverse community that she feels proud to be a part of to this day. She says, "it showed me there are a lot that can be done to help the community and make an impact, no matter how small it might seem."
Her advice to the current members in order to fully appreciate all that YAC has to offer is to manage their time well and plan ahead so they can be present in all meetings and organized events. These activities serve not only the community members but benefit the YAC participants as well. Nghi says, "it is important for youth to have a safe space to express themselves and show that they are represented," encouraging our members to use their voices and speak up on community matters they are passionate about. She hopes the organization can connect the youth to more lawmakers so their voices can be heard and affect change in policies.
Nghi graduated from The Preuss School UCSD in 2016 as part of the last cohort to receive the Gates Millennium Scholarship. This scholarship, created by Melinda and Bill Gates, sponsors students' undergraduate and graduate education in specified fields. She recently earned a Bachelor of Science in Public Health from UC San Diego, but she's not stopping there! As a Gates Millennium Scholar until 2029, she plans to continue her education and pursue a Master of Public Health. She is interested in going into Healthcare Policy, Administration or Community Health Work, with the hope of making an impact in her community. Right now, she is working at the Center for Community Health as a Community Food Specialist for the Urban Food Equity team.
YAC is proud to have Nghi Dang as one of their alumni and cannot wait to see where she goes next!