About Us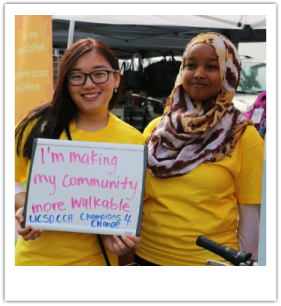 The Youth Advisory Council (YAC) is a group of highly motivated, hard-working, and compassionate young people dedicated to improving the quality of life for fellow community residents, especially those residents and neighborhoods that have experienced historical and systemic health inequities. Through activities and discussions planned and led by YAC youth leaders, members work together to make a difference educating the community on food, nutrition, and physical activity issues.
YAC members meet bi-monthly– planning service projects and engaging in leadership workshops. Young people experience dual roles in these activities, both as expert trainers/facilitators and as participants. During workshops, YAC members collaborate and share experiences working as a professional team in developing innovative approaches and strategies to best serve the needs of their community.
Background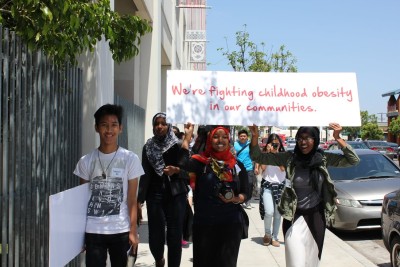 According to the national Youth Risk Behavior Surveillance System (2013), 16.6% of high school students were overweight and 13.7% were obese. Additionally, the median percentage of high school students who participated in at least 60 minutes of physical activity per day was 25.4% (1). Such figures indicate that increased efforts need to be made to target the improvement of nutrition and physical activity in young people. Furthermore, youth from socioeconomically disadvantaged backgrounds should be at the forefront of these efforts as children and adolescents, raised by parents with lower incomes and education levels, are at a greater risk of being obese (2).
It has become evident that youth must work alongside adults to become leaders to reduce epidemic obesity rates. Following this trend, the UC San Diego-Center for Community Health's SNAP-Ed program (funded by the California Department of Public Health (CDPH) through the County of San Diego Health and Human Services Agency, in partnership with UC San Diego's Government and Community Affairs), recognizes the importance of engaging youth to become agents of social change and serve as leaders in their communities to create healthier places to live, learn, work and play. In this spirit, UC San Diego launched a youth advisory council program called the UC San Diego Youth Advisory Council (YAC). The program is dedicated to championing young people in becoming active change-makers throughout San Diego County.
City Heights is home to a large refugee and immigrant community. With 30% of families in City Heights living below the national poverty level, the community experiences significant food insecurity as well as easy access to unhealthy foods — placing community members at risk for health problems such as obesity, type 2 diabetes and hypertension. According to the United States Department of Agriculture, San Diego County has the worst SNAP enrollment rates in the nation — with only one-third of eligible residents participating in the program. Nonetheless, City Heights has a new hope thanks to the dedicated YAC members and other potential partners and community leaders who are willing to implement changes with regard to increasing accessibility to healthy food for those in need.
References:
1. U.S. Centers for Disease Control and Prevention. Youth Risk Behavior Surveillance —United States, 2013. Morbidity and Mortality Weekly Report, 63(SS04): 1-168, 2014.
2. Ogden CL, Lamb MM, Carroll MD, Flegal, KM. Obesity and socioeconomic status in children: United States 1988-1994 and 2005-2008. NCHS data brief no 51. Hyattsville, MD: National Center for Health Statistics. 2010.
Get in Touch
Amina Sheik Mohamed, MPH
 |

Director
Youth and Community Mobilization Programs
E: asheikmohamed@ucsd.edu
Phone: (619) 681-0641