We are aware of the continued challenges food pantries are encountering in relation and response to COVID-19. Our Nutrition Pantry Program lead, Leah's Pantry, has compiled a list of resources for pantries to adapt client assistance services during these challenging times.
Click Here to Receive Virtual Support from UC San Diego CCH Staff
---
About Us
UC San Diego Center for Community Health is now an implementing partner organization for the Nutrition Pantry Program. Designed by Leah's Pantry, the Nutrition Pantry Program provides free support, training, technical assistance, and resources to food distribution sites throughout San Diego County. This work is done with the objective of increasing the number of pantry sites equipped to offer dignity-based, trauma-informed, and client-centered food assistance services in San Diego County.
---
Program Resources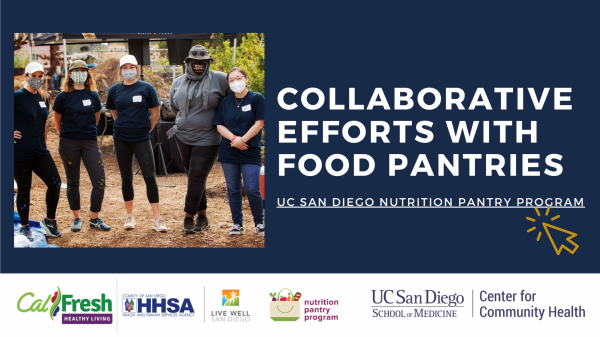 Collaborative Efforts with Food Pantries
This brief presentation provides examples of the types of resources, initiatives, and policies the Nutrition Pantry Program (NPP) supports food pantries with.
Download
Urban Food Equity Overview Jan 2021 PDF
---
Enroll Now
Ready to enroll your pantry in the Nutrition Pantry Program (NPP). Complete a simple form and a member of our team will be in contact as soon as possible!
---
---
This work supports Live Well San Diego, the County's vision for a region that is Building Better Health, Living Safely, and Thriving. For CalFresh information, call 2-1-1. Funded by the USDA SNAP, an equal opportunity provider and employer. Visit www.calfreshhealthyliving.org for healthy tips.