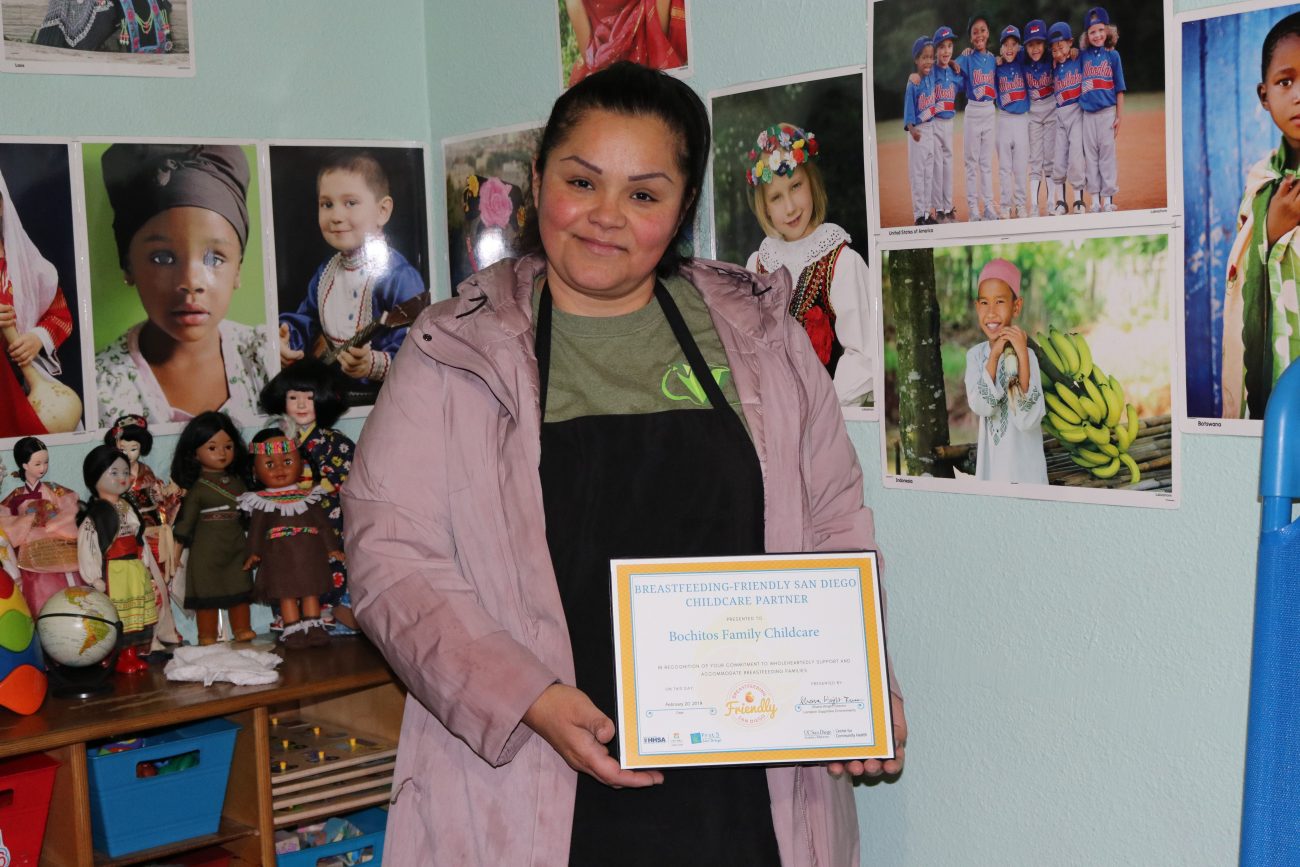 Our community is very fortunate to have the Bochitos' Family Childcare obtaining their recognition as a Breastfeeding-Friendly San Diego (Pro-Lactancia) partner.  Ms. Vazquez will continue to devote all her energy to support the health of children at Bochitos' so they can grow, learn, and develop in a safe environment. Congratulations!
Ms. Maria Vazquez has a licensed family childcare that offers a happy, safe, and loving environment where parents can leave their children with highly qualified and caring providers. Ms. Vazquez states: "There is a rising path for our babies and a key that can start them flourishing is breastmilk, as it is the best food for any newborn. All my efforts are driven to support mothers in the best way to feed and take care of their children." Ms. Vazquez thoughtfully considers ways to provide programs that consider the intellectual, creative, social, emotional, and physical development of the whole child. She fosters the curiosity, diversity, confidence, and compassion to enrich their time while their parents are away.  At Bochitos' Family Childcare, mothers have a very private space available to breastfeed or pump their breastmilk at their convenience.
Nuestra comunidad es muy afortunada de que Bochitos Family Childcare obtenga su reconocimiento como socio de Pro-Lactancia (Breastfeeding-Friendly) San Diego. La Sra. Maria Vázquez continuará dedicando toda su energía para apoyar la salud de los niños bajo su cuidado, y para que puedan crecer, aprender y desarrollarse en un ambiente seguro y divertido. ¡Felicidades!
La Sra. María Vázquez tiene un cuidado de niños en su hogar con licencia familiar, en donde ella ofrece un ambiente seguro, alegre, adecuado y amoroso. Para que los padres pueden dejar a sus hijos con proveedores bien calificados, que dedican toda su atención al bienestar de los niños y de sus familias. La Sra. Vázquez afirma: "La leche materna es el camino mejor para nuestros bebés, es clave y puede hacer que florezcan y avancen mucho más en su nutrición y desarrollo, ya que es el mejor alimento para cualquier recién nacido. Todos mis esfuerzos están dedicados a apoyar a las madres de la mejor manera para alimentar y cuidar a sus hijos". La Sra. Vázquez estudia cuidadosamente las formas de proporcionar programas que consideren el desarrollo intelectual, creativo, social, emocional y físico de los niños.
A la Sra. Vázquez le gusta mucho el fomentar en sus niños la curiosidad, la diversidad, la confianza y la diversión para enriquecer su tiempo mientras sus padres están trabajando u ocupados en la escuela. En Bochitos Family Childcare, las madres tienen un espacio privado disponible para amamantar o extraer su leche materna de acuerdo a su preferencia personal.