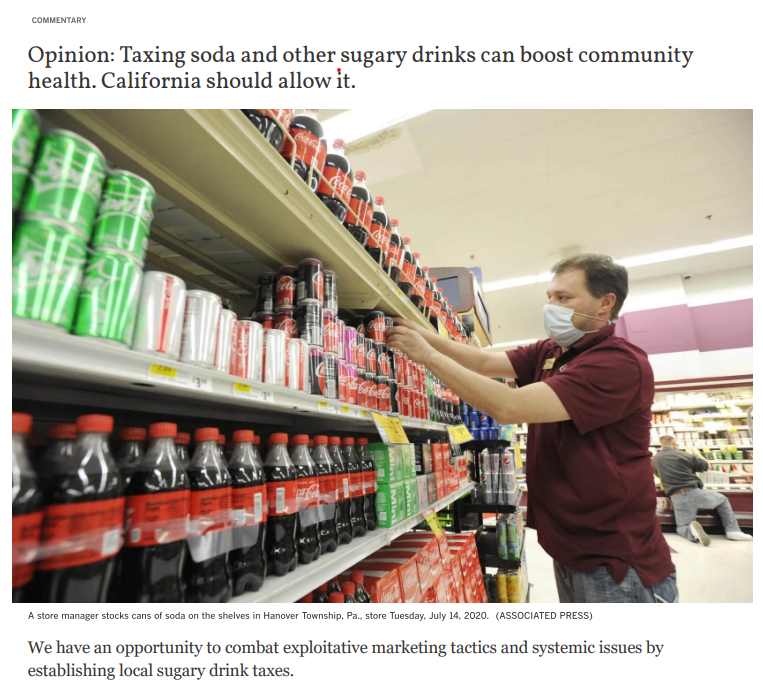 CA4LessSoda, working in partnership with the Child Obesity Initiative (COI), American Heart Association (AHA), Public Health Institute (PHI), and San Diego County Champion Provider Melissa Campos, recently published an Op-Ed in the San Diego Union Tribune supporting AB 1163, which seeks to restore local control in soda tax policies. 
The Op-ed highlights Big Soda's "extortion" that resulted in the implementation of a statewide ban on local soda taxes until 2031 and stresses the need for restoring local control so that local governments can better invest in communities most impacted by health conditions caused by consuming sugary beverages. 
The push for AB 1163 is part of a larger effort happening across California to bring awareness to the health risks posed by sugary beverages. A few months back, the AHA also authored an Op-Ed in the Los Angeles Sentinel urging lawmakers to stand up to Big Soda's extortion and protect the health of Californians by supporting AB 1163. 
CALL TO ACTION: Please share the Op-Ed and/or leave a comment under the Op-Ed on the San Diego Union Tribune website.