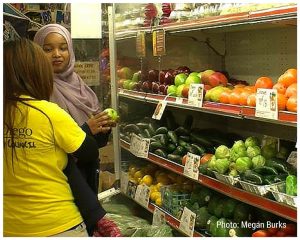 A recent KPBS story on improving small markets highlighted two of the Center's programs. The story featured the efforts of the Center's Youth Advisory Council (YAC), whose teenage members dedicate their time to improving the community through service projects and leadership workshops. The YAC, guided by the Center's Healthy Retail Program in the City of San Diego, recently worked with Louie's Market Place in San Diego's Oak Park neighborhood. The YAC collaborated with market owner, Latif Georges, to build off of market improvement efforts initiated and led by Oak Park resident and Community Town Council President, Aleksei Naumov. The YAC, Center staff, a volunteer food retail consultant, and neighborhood residents joined forces to further implement changes to transform the market into a grocery destination for healthy affordable foods and a community gathering space.
Changes to the market thus far include:
Improvements to the market's exterior façade
New produce section
New meat and deli section
New signage showcasing prepared sandwich and salad menu options featuring local Oak Park neighborhood-themed names
Signage and marketing materials with healthy food and lifestyle messages
Newly painted phone booth being transformed into Oak Park's first "Little Neighborhood Library"
The Center is dedicated to working with small markets and neighborhood residents to help build a healthier and more equitable food landscape for all.
Click here to watch the KPBS story and read the article.