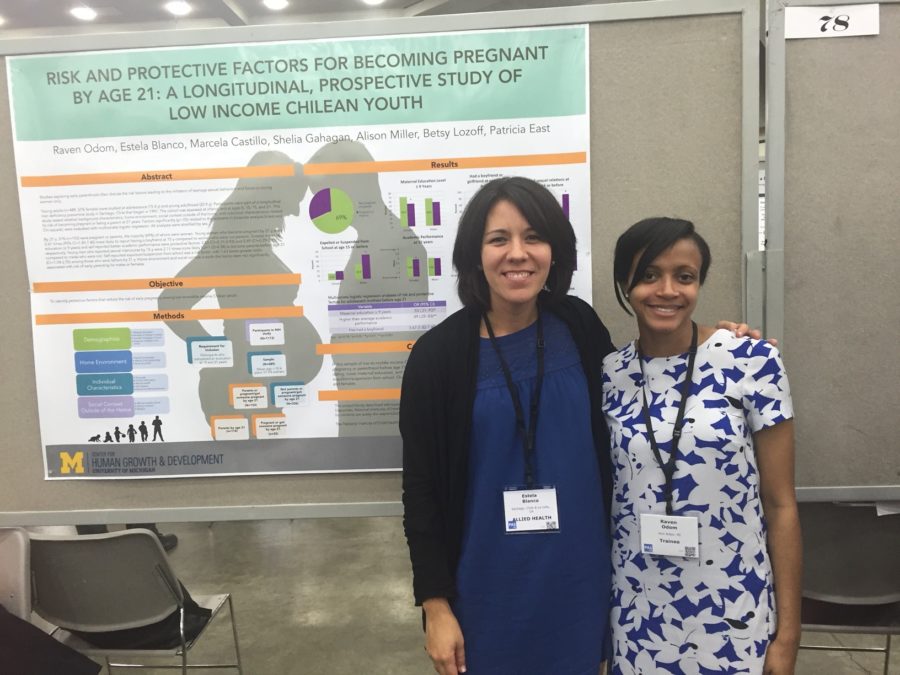 Research from the Division of Academic General Pediatrics, Child Development and Community Health was highlighted at the leading conference for Pediatric research in the U.S., the Pediatric Academic Societies Conference in Baltimore, Maryland April 30-May 3, 2016. Topics ranged from Somali mothers' past trauma and effects on children, to infant iron deficiency and adolescent outcomes, obesity and cardiovascular risk in adolescence, breastfeeding and bone health, and a quality improvement project to improve rates of universal lipid screening in 9-11 year olds in the clinical setting. Our division supported the research of 3 platform presentations and 6 poster presentations.
Patricia East, PhD
1. Effects of Somali Refugee Mothers' Past Trauma on Their Children (PLATFORM)
2. Association between Infant Iron Deficiency and Adolescent Substance Use: A Test of a Functional Isolation Hypothesis (POSTER)
Estela Blanco, MPH, MA
Breastfeeding in Early Life and Adolescent Bone Mineral Density in a Healthy Chilean Cohort (POSTER)
Eastern Kang, PhD, MPH
Incidence and Persistence of Obesity, from Birth to 16y, in a Lower Income Cohort in Santiago Chile (POSTER)
Leah Kern, MD, MPH
Increase in Universal Lipid Screening Among 9‐11 year olds (PLATFORM)
Helen Wang, MD
Physical Activity, Obesity Status and Markers of Cardiometabolic Risk in Chilean Adolescents (POSTER)
Sai Iyer, MD
Literacy Programs in Primary Care SIG (aka. Reach Out and Read SIG) (RESEARCH UPDATE)
Raquel Burrows, MD (Collaborator from INTA, Chile)
Sarcopenia and Metabolic Syndrome in Adolescents (PLATFORM)
Paulina Correa, PhD (Collaborator from INTA, Chile)
The Link between Academic Outcomes and Nutritional Quality of Snacks in High School (POSTER)
Raven Odom, BA (Mentored undergraduate student from University of Michigan)
Risk and Protective Factors for Parenting by Age 21: A Longitudinal Study of Low‐Income Chilean Youth (POSTER)
Kamaria Washington, BA (Mentored undergraduate student from University of Michigan)
Emerging and early onset obesity are differentially associated with school success in Chilean adolescents (PLATFORM)
For more information or to read the complete abstract, please contact Christine Williams at cbw001@ucsd.edu.