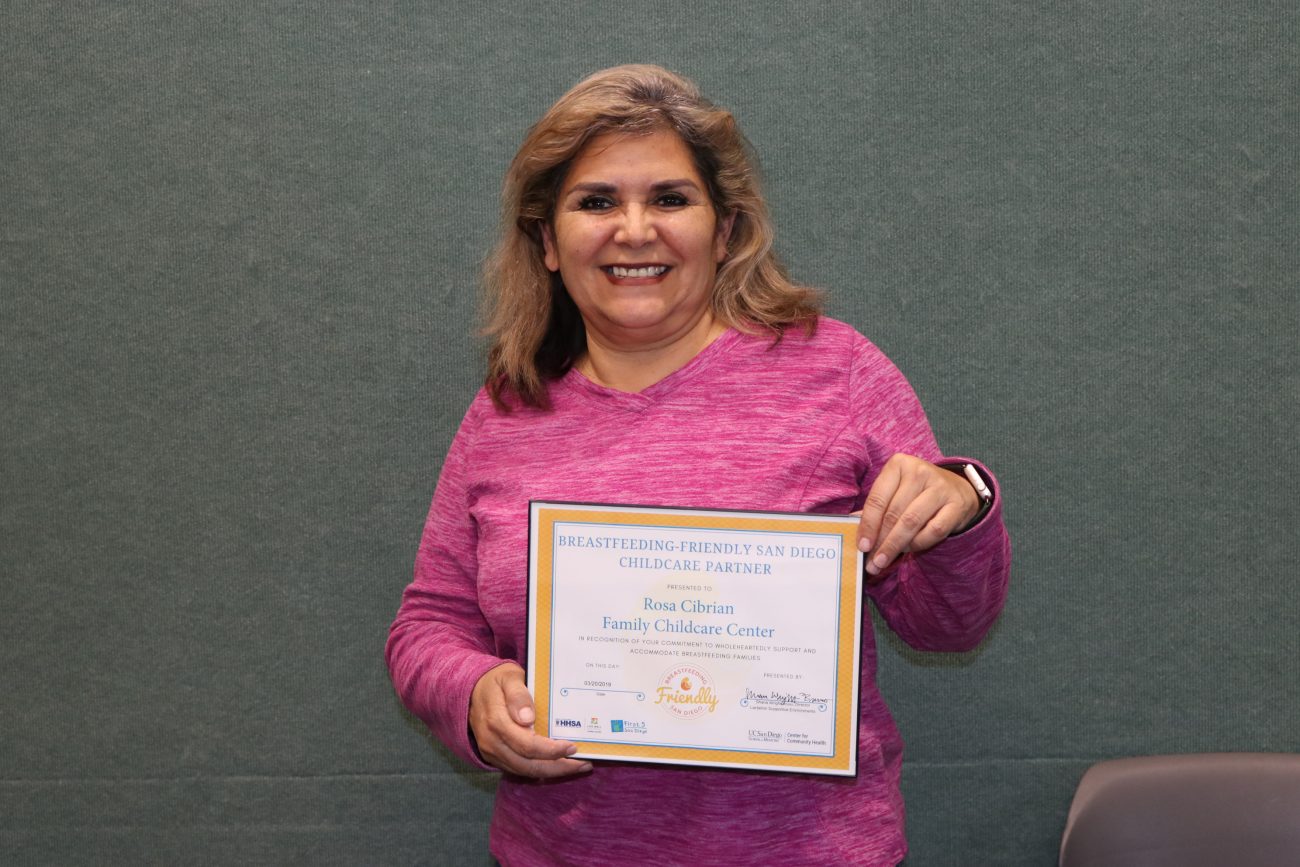 Congratulations Ms. Cibrian, you are joining a great team of devoted providers under the Breastfeeding-Friendly San Diego (Pro-Lactancia) designation! Our partnership is making a big difference for our next generation!
For over five years, Ms. Rosa Cibrian has been welcoming families and providing care for their children at her home. She is dedicated to seek the most updated information about nutrition and education for all the children under her care.  Ms. Cibrian enthusiastically shares what she learns about children's wellness and development with the parents that come seeking in-home daycare.
With her own children, Ms. Cibrian experienced first-hand the effects and differences on babies' health who are able to receive breastmilk. She is delighted that the science is supporting what are the best practices for babies. Ms. Cibrian states, "Whenever possible, I am committed to helping mothers to give any amount of breastmilk that they can.  I am always willing to address any myths or misinformation about breastmilk for new mothers, as I know breastmilk is providing daily defenses and high quality food for their babies." Ms. Cibrian wants her home to feel like an extension of her families' own homes.  She has a whole room available for breastfeeding parents, so they can rest, have privacy, or just have a space to reconnect with their babies.
¡Felicidades, Sra. Cibrian, por unirse a un gran equipo de proveedoras dedicadas al cuidado de la niñez bajo el programa Pro-Lactancia (Breastfeeding-Friendly) San Diego! Nuestra colaboración está haciendo una gran diferencia en la salud y el bienestar de nuestra próxima generación.
Por más de cinco años, la Sra. Rosa Cibrian se ha dedicado a cuidar esmeradamente a los hijos de las familias en nuestra comunidad. Ella siempre brinda una bienvenida calurosa en su hogar. La Sra. Cibrian se dedica regularmente a buscar información actualizada sobre la mejor nutrición y métodos de educación que apoyen el desarrollo y beneficien a todos los niños bajo su cuidado. En su hogar, ella comparte con mucho entusiasmo todo lo que aprende, con los padres acerca del bienestar y la salud de los niños. Con sus propios hijos directamente, la Sra. Cibrian experimentó los efectos positivos y las diferencias palpables en la salud de los bebés, cuando son alimentados con leche materna, representando una enorme ventaja en todo. Ella está encantada de que la ciencia respalde cuáles son las prácticas de mayor provecho para los bebés.
La Sra. Cibrian afirma: "Siempre que sea posible, me comprometo a ayudar a las madres que den leche materna en cualquier cantidad en la que se pueda para ayudar a sus bebes. Siempre estoy dispuesta a plantear y aclarar cualquier mito o información incorrecta sobre la leche materna, en especial para las nuevas madres.  Pues yo sé que la leche materna proporciona defensas diarias y alimentos de la mejor calidad posible para sus bebés." La Sra. Cibrian desea que su hogar se sienta como una extensión de los hogares para todas sus familias. Ella ha dedicado una habitación entera para las madres que amamantan, para que puedan descansar y tener privacidad, o simplemente tener un espacio para reconectarse con sus bebés siempre que lo deseen.