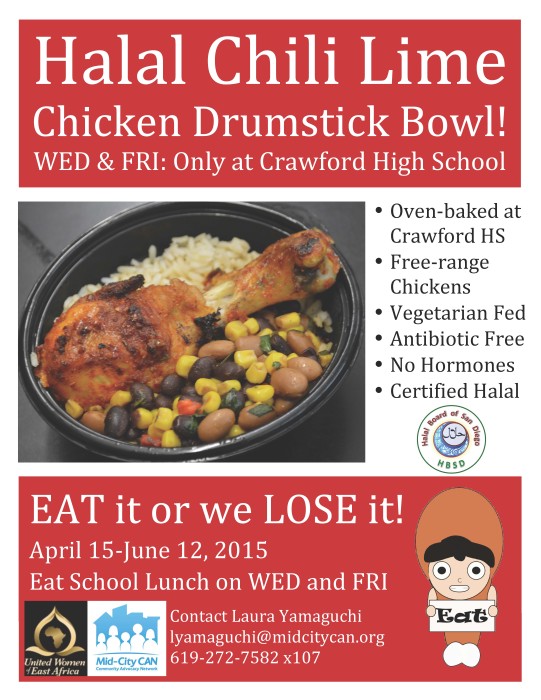 The Food Justice Momentum Team is made up of parents, youth and community members from City Heights who are concerned about health and justice for food-related issues. The team is an incredibly diverse group coming from the Somali Bantu, Vietnamese, Ethiopian, Eritrean, Somali, Caucasian and Latino communities. Typically, the group's meetings have up to five different languages translated at once.
City Heights encompasses approximately a six-mile radius and is home to over 80,000 residents — about half of whom are youth under age 19. This is the highest density of young people in San Diego. It is largely an immigrant and refugee community, where over 40 different languages are spoken. There is a richness of cultures, experience and knowledge within the community.
City Heights is also a food desert, with only 1.64 square feet of grocery space per person, almost half the industry standard of 3 square feet per person. Thirty-three percent (30,272 residents) live in critical areas under-served by grocers within City Heights. Many residents are food-insecure and living in poverty.
The Food Justice Momentum Team members seek to change the lack of access to healthy, fresh foods. Almost all of the children in the area attend San Diego Unified School District schools, and many of them were not eating school lunch for various reasons, including religious and cultural barriers, such as how food is grown, butchered, or even prepared.
These factors place pressure on City Heights parents who must prepare an extra meal for their kids when they came home from school, a problem for those who work during the day. These parents are worried that their children may not be learning at school because they are not eating. For this reason, the team sought to bring changes to SDUSD school lunches so that kids eat the healthy school lunches.
Laura Yamaguchi has been a Food Justice Organizer with Mid-City CAN's Food Justice Momentum Team since July 2013.
"I have been privileged to work with a diverse team of committed parents and youth in City Heights for the past two years, but their dedication to creating healthy school food options for their children spans more than five years," Yamaguchi said. "Three years ago, we asked City Heights residents from over six different language groups what the biggest barriers were to accessing healthy food in City Heights. Community garden space and land access came up.  Having access to grocery stores with affordable healthy food came up.  Finding halal foods also came up.  As they discussed, they all found a commonality that their children all went to school and were having difficulties with the school food.  They were concerned that their children were not eating at school for various reasons (they did not like the options that were there, they thought it was unhealthy or they couldn't eat the school options because there was not a halal option available)."
 What did they do?
Since the fall of 2013, the Food Justice Momentum Team has been working with San Diego Unified School District Food and its Nutrition Services Department to offer healthier protein options, produce sourced from local City Height's farmers, and a certified halal option – food that is allowed for Muslims to eat so that City Heights children have a healthy school-lunch option acceptable to all cultural backgrounds and food that the students actually want to eat.
After over a year spent learning about the school food budget and proposing potential solutions to the Food Services Team and school board members, SDUSD agreed to work with the City Heights Food Justice Momentum Team to get more City Heights students to eat their school meals.
The effort saw the debut of the Halal Chili Lime Chicken Bowl, a vegetarian-fed, free-range chicken from Mary's Free-Range Chickens that have no antibiotics, hormones, or pesticides, and are certified halal at Crawford High School — the only high school in the district that has this exceptional meat, oven-baked on Wednesdays and Fridays in the school's new Combi Ovens.
The challenge is to see if the halal Chili Lime Chicken Bowl encourages an increase in school lunch participation. If the halal increases participation by 10% on Wednesdays and Fridays, Crawford will keep the halal chicken drumstick bowl and the program will expand to other area schools as long as supply permits.
 How is it going?
The Food Justice Momentum Team was excited for this pilot program to start. They launched a student campaign at Crawford High School as well as a parent campaign to make Crawford families aware of this issue in the City Heights community.
Students gave classroom presentations, made posters and educated their peers on how exceptional the quality of halal chicken is — reinforcing that the only way to keep the option available is to eat the halal chicken. On the first day, the number of students who ate lunch was 216 students higher than the previous day without the Halal Chili Lime Chicken Bowl.
Three weeks into the pilot, there has been a 6-8% increase in lunch participation, and by far, the most popular item eaten is the Halal Chili Lime Chicken Bowl.  Of the 11 lunch options per day, it looks like a little less than half of the lunches eaten that day are the Halal Chili Lime Chicken Drumstick Bowl.
The Food Justice Momentum Team has dedicated a lot of time and energy to make a significant change to the school food system. This effort has been successful thanks to the partnership with SDUSD Food Services, who considered the needs and the determination of the Food Justice Momentum Team, as well as mothers who advocate for their children's health across language and cultural barriers to find a solution that speaks to the needs of families in City Heights.
The resident leaders of the Food Justice Momentum Team are mothers of students, many of whom are immigrants having faced difficult journeys escaping war, enduring discrimination, isolation and poverty in the United States. They have lived the harsh realities of living in the food desert of City Heights, where there is not a sufficient number of full-service grocers for the amount of people who live there thereby affecting the community's children and the potential to learn and grow. They see how important the school meals are for their children, and they wanted to make a change that benefits all of their community's children. In their eyes, children need to eat healthy food to have a healthy mind.