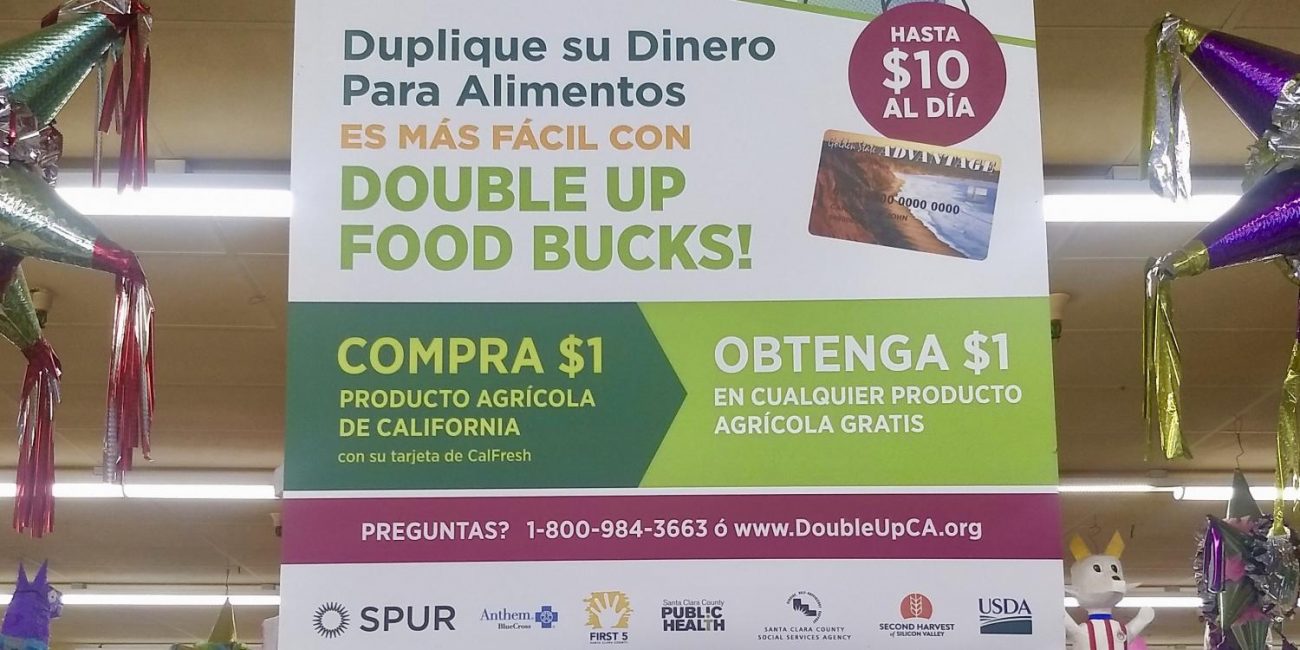 California has reached a milestone in its effort to make healthy, California-grown food more affordable for low-income residents. In August, the California Department of Social Services (CDSS) awarded contracts to SPUR and two other nonprofits to test new technology for providing healthy food incentives. The selection of the pilot grantees is a key step in implementing the California Fruit and Vegetable EBT Pilot Project, which the legislature and governor authorized with $9 million in funding in 2018.
SPUR will be managing one of the pilots, which will include a total of eight grocery stores within three independently-owned chains — Arteaga's Food Center, Santa Fe Foods, and Harvest Market —in Santa Clara, Alameda and Mendocino Counties.
Ecology Center of Berkeley, which coordinates the Market Match Consortium, will manage a pilot across seven farmers' markets, including markets in Los Angeles, San Bernardino, Alameda, Napa and Sacramento counties.
And University of California San Diego Center for Community Health at the Altman Clinical and Translational Research Institute will manage a pilot in Southern California across 80 grocery stores operated by Mother's Nutritional Center in Los Angeles, Orange, Riverside, San Bernardino and San Diego counties.
When CDSS released its request for proposals for pilot partnerships in September 2020, the agency provided a timeline that targeted September 2021 as the date it aimed to have incentives loaded onto CalFresh customers' cards as part of the pilot. After a number of delays, in December 2021 the state confirmed a new target "go-live" date of fall 2022.
Though many details still need to be worked out — including finalizing agreements among all the relevant technology partners — some key work is likely to begin in the next few months. Companies that most consumers have never heard of but are instrumental in making it possible to buy groceries with the swipe of a card will begin making changes in the background to the technology that processes a grocery or farmers' market transaction. FIS, the financial services company that manages the state's Electronic Benefit Transfer (EBT) system, will update the database of CalFresh accounts to process the new state-funded, supplemental benefit, which is separate from the federally funded base CalFresh benefits. Financial services companies — also known as third-party processors — will update their systems to pass new information from the cash register to the state's EBT database and back. And companies that manufacture cash register software will also update their software to process the transaction in the pilot.
All of this up-front investment in software and systems updates will ultimately translate into the ability to test the fundamental question of the pilot: Do the upgraded systems provide healthy food incentives to CalFresh customers in a way that is as good, or better — for CalFresh participants, grocers, farmers' markets, and program administrators — than the systems currently in place?
We will be reporting on our own progress and what is being learned from the pilot as it gets underway in the coming months. In the meantime, if you have questions about this work, please contact Eli Zigas, Food and Agriculture Policy Director, at [email protected].