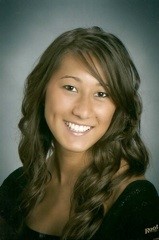 Elissa Kim, a fourth-year UCSD School of Medicine Student, will complete a one-year internship in Santiago, Chile, as part of the Santiago Longitudinal Study.  Kim´s research study focuses on fatty-liver disease detection as well as its association with other markers of cardiovascular risk.
Nonalcoholic fatty liver disease (NAFLD), the most common cause of chronic liver disease in the western world, is projected to become the leading reason for liver transplantation. In the U.S., Hispanics are affected more than Caucasians.  Due to the significant rise in obesity, over three decades, the prevalence of NAFLD is expected to increase and pose a serious public health threat.
Once considered a disease of adults, NAFLD is increasingly prevalent among children — presenting new public health problems. Increased recognition of NAFLD parallels the dramatic rise in pediatric obesity.
This study of NAFLD in young adults is expected to improve the understanding of the development and natural history of NAFLD.  The role of potentially modifiable risk factors will be examined to inform future intervention/prevention studies. As obesity has increased worldwide, this study may become applicable to other regions experiencing rapid economic and food environment changes.  The study may also shed light on the health disparity related to NAFLD in Hispanic/Latino populations.