Armas Sonia's Family Childcare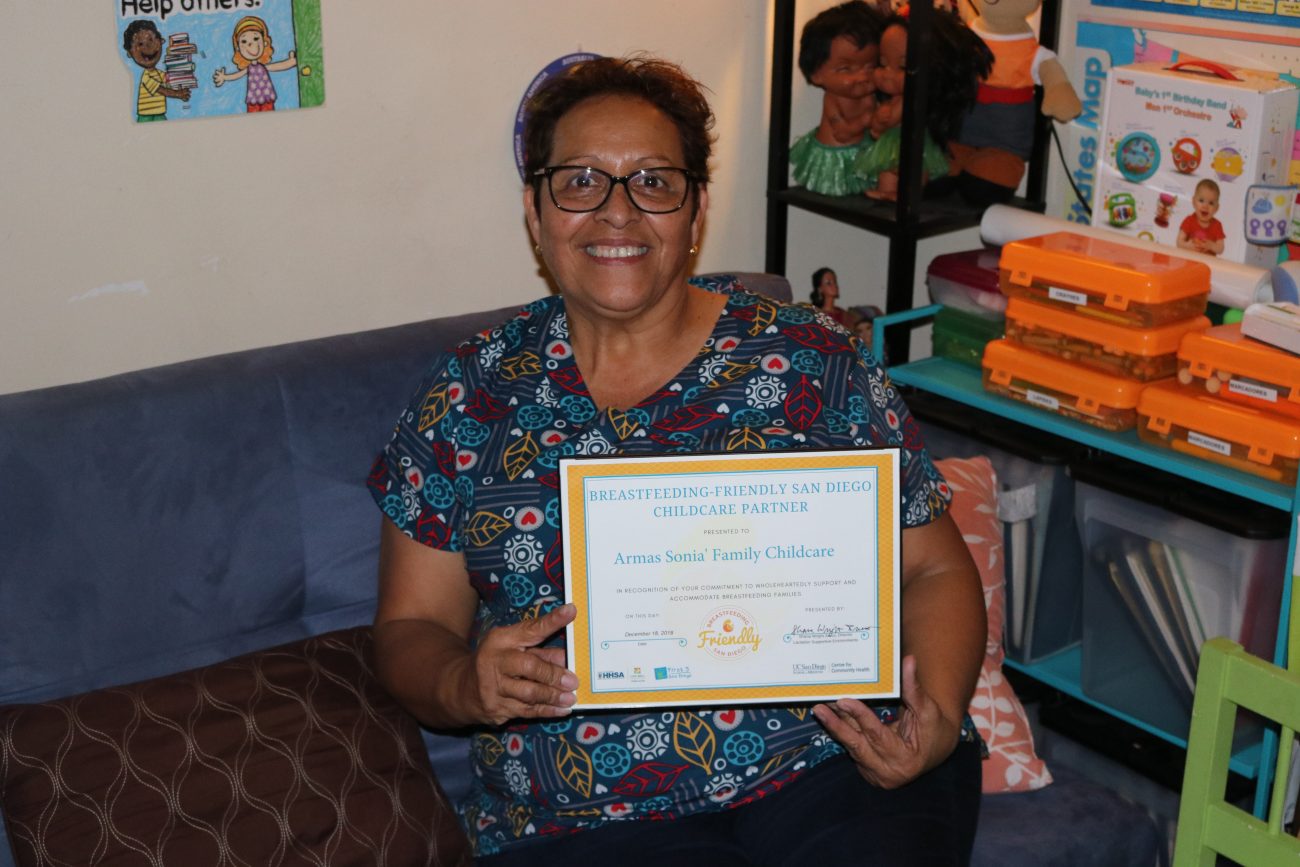 For over 24 years, Sonia Armas has been taking care of families in our community, through providing nourishment, nutrition, and a safe environment for all children trusted under her care. Ms. Armas supports and advocates for breastfeeding mothers and babies. In part due to her own experiences, Ms. Armas continues deepening her nutrition knowledge, taking regular classes and seeking reliable children's development information. This dedication enhances her holistic childcare approach. Ms. Armas' attitude and involvement with her families has strengthened her understanding about ways to continue supporting breastfeeding families. She shares: "I have seen firsthand the difference that breastmilk can make in the health, wellness, and development of babies. Premature babies- even twins, there is nothing that can be compared to the quality and benefits that a mother's milk has for a baby."
At Armas Sonia's Family Childcare all families have access to a dedicated space for mothers to breastfeed or extract their milk, if they wish. The space is both welcoming and thoughtfully decorated. Ms. Armas states: "I believe that every mother, regardless of their work conditions, should have someone supporting her to continue breastfeeding." Ms. Armas goes out of her way to find lactation resources for her clients, so questions from families do not go unanswered. She is an advocate of children's health within our local community. Thank you for your dedication and congratulations Sonia Armas on becoming a Breastfeeding-Friendly San Diego recognized provider!
Durante más de 24 años, Sonia Armas ha estado cuidando a las familias en nuestra comunidad, proporcionando alimentos nutritivos y un ambiente seguro para todos los niños en su cuidado. La Sra. Armas apoya y aboga por las madres y los bebés que amamantan. En gran parte debido a sus propias experiencias, la Sra. Armas continúa profundizando su conocimiento sobre la nutrición infantil, tomando clases y buscando información confiable sobre el desarrollo y bienestar de los niños. Esta dedicación amplía su enfoque holístico de cuidado de niños. La Sra. Armas se solidariza con las familias y para encontrar formas para ayudar a las familias que amamantan. Ella comparte: "He visto de primera mano la diferencia que la leche materna puede hacer en la salud, el bienestar y el desarrollo de los bebés. "Bebés de todos tipos, prematuros, gemelos- no hay nada que pueda compararse con la calidad y los beneficios que la leche materna tiene para un bebé".
En Armas Sonia' Family Childcare, todas las familias tienen a su disposición un espacio dedicado para que las madres amamanten o extraigan su leche. El espacio es acogedor y está cuidadosamente decorado. La Sra. Armas dice: "Creo que todas las madres, independientemente de sus condiciones de trabajo, deberían de tener a alguien que las apoye para que continúen amamantando". La Sra. Armas se esfuerza por encontrar recursos de lactancia para sus clientes, para que toda pregunta que las familias tengan no se queden sin respuesta. Ella defiende apasionadamente la salud infantil dentro de nuestra comunidad local. ¡Gracias por su dedicación y felicitaciones a Sonia Armas por convertirse en una reconocida proveedora de Breastfeeding Friendly San Diego!