Gladys' Family Childcare Center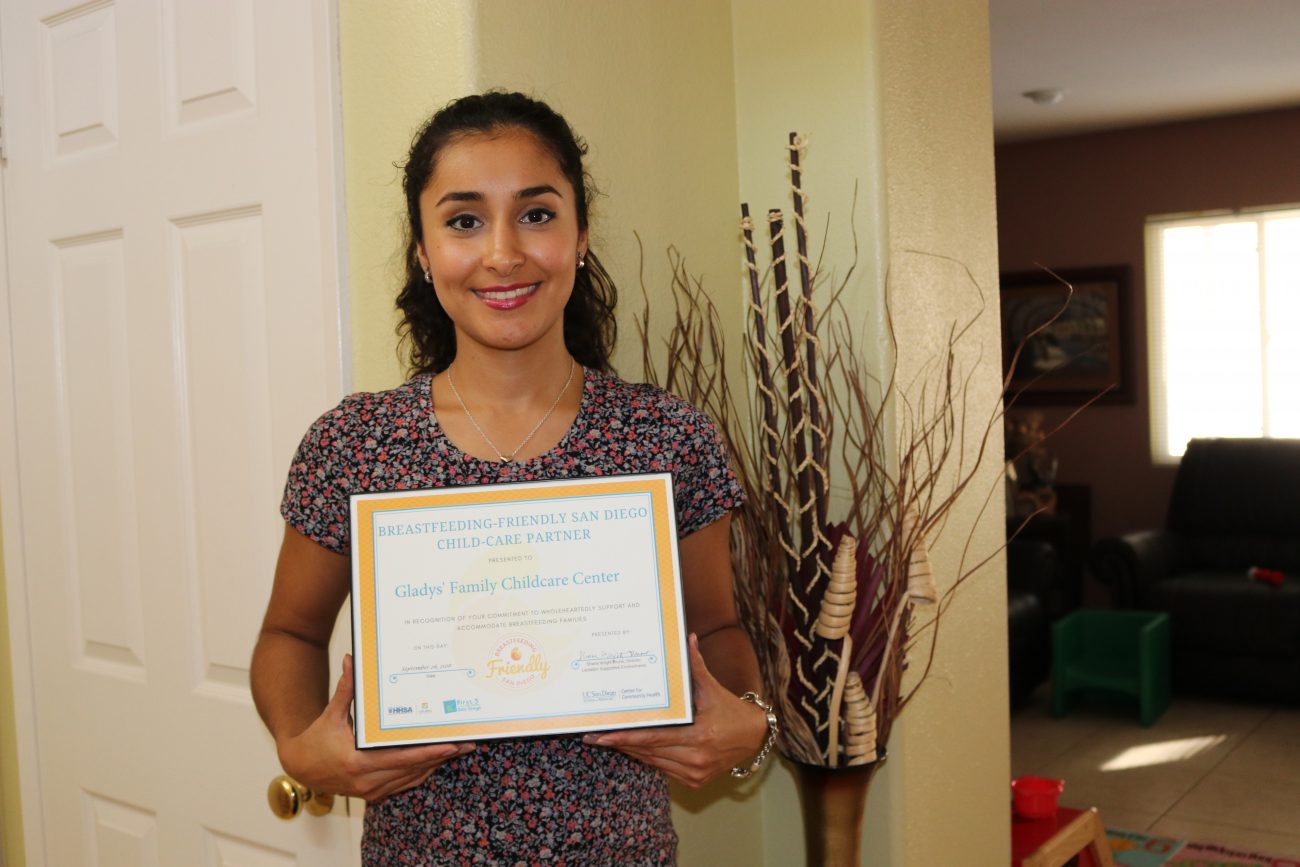 Providing a warm and safe setting and welcoming children is the goal of Gladys' Family Childcare Center. Ms. Sauceda-Flores states: "It is with all my enthusiasm and caring support that I am committed to serve our local families. I am taking excellent care of the health and wellbeing of our children, who are the most precious for all of us. With firsthand experiences, as a breastfeeding mother along with my professional commitment, I am supporting families with the best nutrition and development environment for their children."
With those words, Ms. Sauceda-Flores has opened her home to welcome babies and breastfeeding mothers into her care. She believes breastmilk is the best way to give any child a healthy and productive start. In her own words "As a childcare provider who supports families to continue breastfeeding when they go back to work, I am providing a higher quality of care for our babies." The lactation space that she has designated is purposely in a quiet area, but is also easily accessible. Ms. Sauceda-Flores continuously updates her resources in order to provide a current and safe environment for families. She utilizes hands-on playing and learning activities, and provides children opportunities to learn through socialization in friendly surroundings. We should strive to Ms. Sauceda-Flores' quality of care in every community, and we welcome her designation and partnership into our Breastfeeding Friendly San Diego (Pro-Lactancia) program. Congratulations Gladys Sauceda-Flores!
El objetivo de Gladys' Family Childcare Center es el proporcionar un ambiente cálido y seguro para todos los niños en su hogar. La Sra. Sauceda-Flores dice: "Mi compromiso es el apoyar a nuestras familias con todo mi entusiasmo y dedicación, al cuidar la salud, nutrición y el bienestar de nuestros niños, pues ellos son lo más preciado para todos nosotros. Además de mis propias experiencias personales, como madre que amamanta, mi meta es el proporcionar a las familias el mejor ambiente para el desarrollo y crecimiento de sus hijos."
La Sra. Sauceda-Flores ofrece su hogar para cuidar a los niños de nuestra comunidad, los bebés y las familias que amamantan. Ella sabe que la leche materna es el mejor inicio saludable y óptimo para la nutrición y el desenvolvimiento de nuestros niños. En sus propias palabras: "Al proveer cuidado adecuado, yo quiero ayudar a las familias para que continúen amamantando cuando regresan al trabajo, estoy brindando un nivel de atención con mayor calidad para nuestros bebés". El espacio de lactancia que ella ofrece para las mamás está en un área callada y accesible fácilmente. La Sra. Sauceda-Flores mantiene recursos educativos al día para las familias. Ella utiliza actividades de juego para el aprendizaje de los niños, al igual provee oportunidades para aprender a través de la socialización en un ambiente amigable y seguro. Gladys es una inspiración y ejemplo a seguir, al proveer óptima calidad de cuidado de niños en todas nuestras comunidades. ¡Le damos la bienvenida a su designación y asociación en nuestro programa Breastfeeding Friendly San Diego (Pro-Lactancia). Felicidades a Gladys Sauceda-Flores!