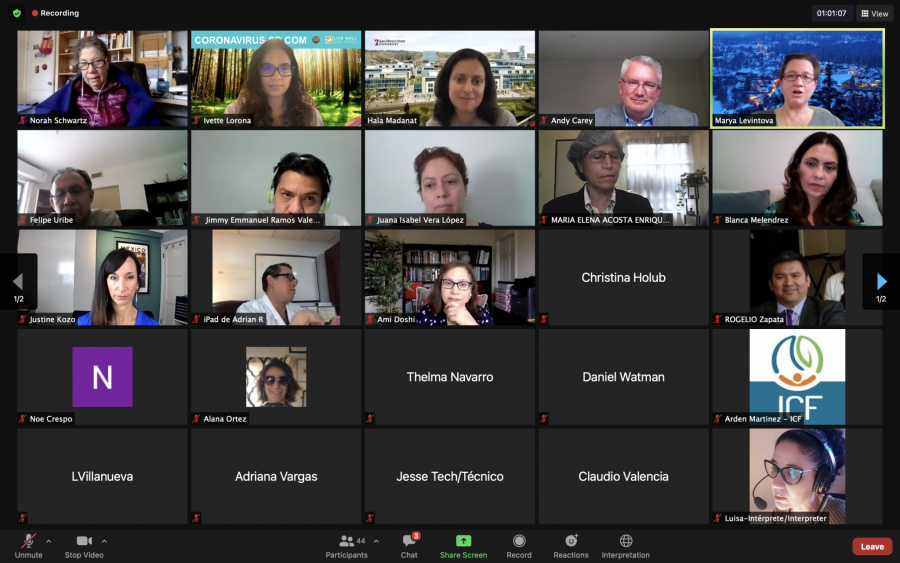 Last month, San Diego State University received funding from the CRDF Global, Fogarty International Center to organize a virtual convening to build a cross-border childhood obesity prevention research network in the San Diego-Tijuana region. The convening facilitated collaboration among a network of US and Mexican researchers by developing cross-cutting themes and a shared research agenda. Over the course of the two-day convening, attendees shared research findings, lessons learned, and worked together to develop common research questions and strategies.
The conference highlighted synergies between research being conducted in Baja California and among Latinx populations in San Diego County by focusing on four shared workgroup themes: community nutrition and healthy living, food insecurity, physical activity, and the built environment. Each workgroup developed research questions, presented their ideas to funding agencies in attendance, and received their feedback. Funding agency participation included the National Institutes of Health, Alliance Healthcare Foundation, Fogarty International Center, Border Philanthropy Partnership, Fundación SIMNSA and the International Community Foundation, among others.
Workgroup research proposals included: 1) creating innovative media tools for communities to share more easily their lived experiences and health perceptions; 2) developing the infrastructure to better facilitate cross-border community-research collaborations promoting food and nutrition security, and 3) collecting data on the various social factors informing childhood obesity and creating a strategy to improve physical activity rates among children in the San Diego-Tijuana border region.
A comprehensive report on topics addressed, including research priorities, opportunities, and research capacity, will be disseminated to further support sustainable U.S.-Mexico cross-border research collaboration. Conference attendees also plan to strengthen long term new and existing partnerships. The second binational conference for childhood obesity prevention is estimated for 2022.
The conference was organized in partnership with San Diego State University, Universidad Autónoma de Baja California (Autonomous University of Baja California), UC San Diego Center for Community Health, UC San Diego Altman Clinical Translational Research Institute, Mexico-U.S. Border Health Commission, El Colegio de la Frontera Norte (College of the Northern Border), San Diego County Childhood Obesity Initiative, Leah's Pantry, County of San Diego Health & Human Services Agency, Border Health Consortium of the Californias, and ISESALUD Health Services, Jurisdictions of Tijuana, Tecate and Rosarito, Baja California.