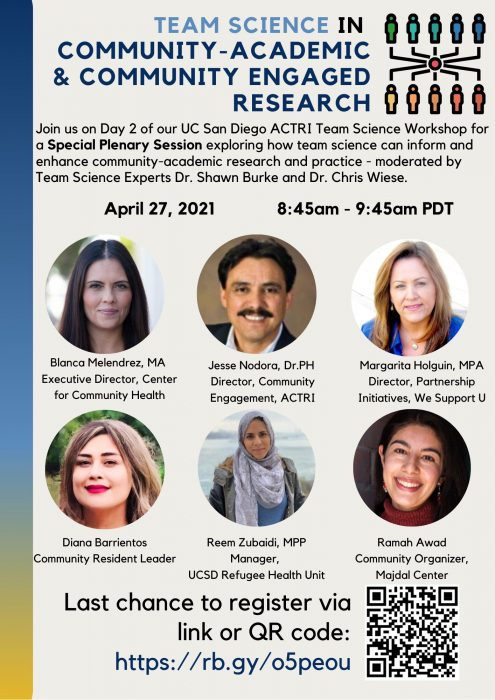 By Rohini Bulusu & Nikki Schroeder
Recently, the UC San Diego Altman Clinical and Translational Research Institute (ACTRI) hosted a two-day workshop to discuss community engagement as a guiding framework for effective multidisciplinary research, also called "team science" research.   The workshop, entitled "Applying the Science of Teams to Community-Engaged Implementation Research", provided participants the opportunity for researchers and community members to share their strategies and experiences practicing community engaged team science research.
The plenary session, "The Role of Team Science in Community-Academic and Community-Engaged Research," explored the work of community partners. Speakers addressed essential elements of an equitable community-academic partnership including best practices for more inclusive research participation and the essential role of resource-sharing and community compensation. In addition, speakers provided insight on how a community organization may, or may not, decide to participate in a team science research project.
This session's panelists featured San Diego community leaders and activists Reem Zubaidi (UCSD Refugee Health Unit / San Diego Refugee Communities Coalition), Ramah Awad (Majdal Center), Margarita Holguin (National Partnership for Training Community Health Workers), and Jesse Nodora, ACTRI Community Engagement Director. Their shared expertise and knowledge emphasized the value community partners add to scientific discovery, translational research, and team science effectiveness.
This event was co-hosted by the Team Science, DISC, and Community Engagement teams at ACTRI.