Breastfeeding Friendly San Diego Partner Highlight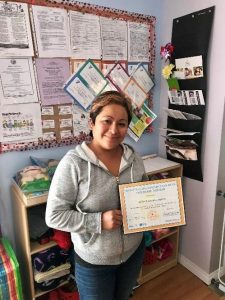 Meet Esther Gonzalez Aquino, the owner of Family Child Care Home in San Marcos. She is a new but excited and eager childcare provider who has two of her own children. Ms. Gonzalez Aquino has always loved working with babies, and through her childcare, she is able to live out her dream of teaching children.
Ms. Gonzalez Aquino's Family Childcare Home truly is a family affair as her 15 year old daughter aided her in designing the space with a variety of colors and photos of animals. Her clients not only appreciate that she is breastfeeding friendly, but also that she offers care in both English and Spanish.
Breastfeeding is something Ms. Gonzalez Aquino feels very strongly about supporting and says "I don't want moms to feel ashamed or hide in their car to feed their baby. I want moms to feel comfortable." She provides those mothers a calming and private space to breastfeed or pump with the use of a privacy screen. Completing the Breastfeeding-Friendly San Diego program was a no brainer for Ms. Gonzalez Aquino and recommends it to other providers as it is an excellent way to bring new mothers to her childcare.