Breastfeeding Friendly San Diego Partner Highlight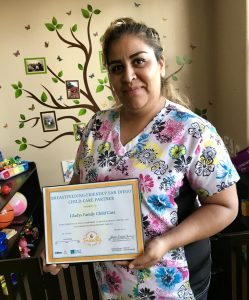 Gladys Gonzalez has been providing a warm and caring childcare for the
families in her community for over 10 years! Providing care in both English
and Spanish, Ms. Gonzalez enjoys playing with the children in her care and observing them learn through play.
Ms. Gonzalez loves her job, and it shows through her dedication to
continual improvement that she demonstrates in many ways, including by
participating in the Breastfeeding-Friendly San Diego program.
Completing the program was important to Ms. Gonzalez because she
wants to support mothers in continuing their breastfeeding journeys.
When it comes to other childcare providers participating in the program,
Ms. Gonzalez says "Do it!" with enthusiasm and a smile. She is grateful for
Breastfeeding-Friendly San Diego for giving her the resources and support
to create a welcoming space for mothers to breastfeed their babies. Ms.
Gonzalez went above and beyond when creating her breastfeeding
space, taking the time to display valuable resources for families who might
benefit from additional support, and creating a comfortable and private environment for mother and child.