Local WIC Agencies Share Best Practices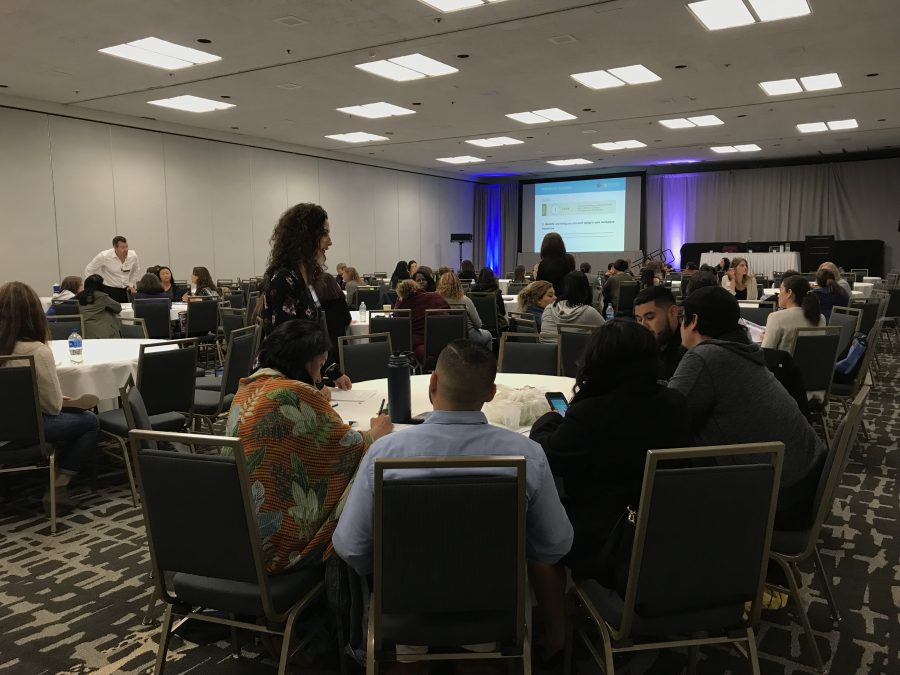 At this year's California Women, Infants, and Children (WIC) Association 27th Annual Conference, the Director of Live Well @ Work, Kelley Axelson, hosted a session on "WIC Worksite Wellness Best Practices: Creating a Culture of Health". The session engaged more than 100 WIC staff to support them in either establishing or enhancing their worksite wellness programs in their respective counties across California. The conference theme was "WIC Moves Families Forward", which brought nearly 900 WIC staff from across the state to learn about ways WIC and partners can create bridges for young families and support healthy outcomes. Kelley moderated the panel discussion that featured local WIC agencies sharing their best practices for creating effective employee wellness programs.
Panelists included John Haubenstricker from American Red Cross WIC, Lily Silva from San Diego State University Research Foundation WIC, and Jo Ann Shaw from North County Health Services WIC. These WIC agencies have an established partnership with the Live Well @ Work* initiative to receive support for enhancing their wellness programs. The panel discussion focused on ways these San Diego WIC Worksite Wellness Coordinators planned, designed, implemented, and sustained wellness programs to resonate with their employee population. Panelists shared what factors influenced their program design and how that directly influenced their culture of health.
Worksite Wellness Toolkit for Small and Medium-Size Businesses
The session centered on a new resource developed by the Live Well @ Work initiative, the Worksite Wellness Toolkit for Small and Medium-Size Businesses (Toolkit), in partnership with the San Diego Regional Chamber of Commerce, the South County Economic Development Council, North San Diego Business Chamber, and UC San Diego-Center for Community Health. The Toolkit provides evidence-based, turnkey steps for creating and sustaining an employee wellness program. Strategies include no cost to low-cost methods for designing wellness programs, along with local and national employer resources, assessment tools, and policy templates. The panel discussion walked through each of the steps featured in the Toolkit, Plan, Do, Act, and Assess – with each panelist sharing how they implemented that step within their agency.
The first step, Plan, focuses on gaining leadership buy-in, assessing your employees' needs and interest, and recruiting a wellness champion. John shared his ongoing data collection and assessment protocol that helped him nimbly refine his programming to resonate with his employee culture and preferences. These included individual employee surveys, organizational assessment tools (i.e. Live Well @ Work ScoreCard), and key informant interviews with wellness leaders throughout the organization.
The next step in the process, Do, centers on developing a mission and vision statement, creating a strategic action plan, and offering annual health screenings and risk assessments. Jo Ann shared how she created diverse wellness committees at each site as an effective communication strategy between staff and wellness leaders.
The third step, Act, emphasizes designing and implementing your wellness program. Lily stated "At the CWA Spring Conference this year, I was able to share what has been one of our most successful wellness campaigns SDSU Research Foundation WIC has implemented."  She shared how her organization "In the spring of 2018, WIC partnered with Live Well @ Work and soon after our WIC staff signed the Meet Well Pledge to host healthier meetings, trainings, and events." The Meet Well Pledge not only supported healthy food and beverages options at meetings, but also integrated sustainability practices, food safety, lactation accommodation, tobacco cessation, and physical activity breaks. Lily also shared how she created quarterly wellness campaigns on topics such as: Stress Less, Save Well, and Walk Well, which were successful in bringing in outside wellness partners like Arch Fuston, Corporate Wellbeing Consultant, and Alex Ching and Spencer Dung, Financial Advisors-WestPac Partners, to provide employee educational sessions. Also, Jo Ann commented "I liked being able to share what has worked for our agency to promote wellness, like our Healthy Snack Basket program and staff meeting Wiggle Breaks and Wellness Tips."
The last step, Assess, highlights how to measure your progress, successes, and potential challenges to sustain your worksite wellness efforts. John shared a fun video from his last quarterly wellness celebration event, which provided a morale boost and worked to sustain employee engagement. All of the panelists shared innovative strategies and best practices within each step that resonated with the attendees.
"Our WIC agency began building a healthier workplace culture in 2008, and since have seen many transitions – in staffing and leadership and yet – the commitment to wellness remains." Lily Silva, SDSU Research Foundation WIC
Audience Engagement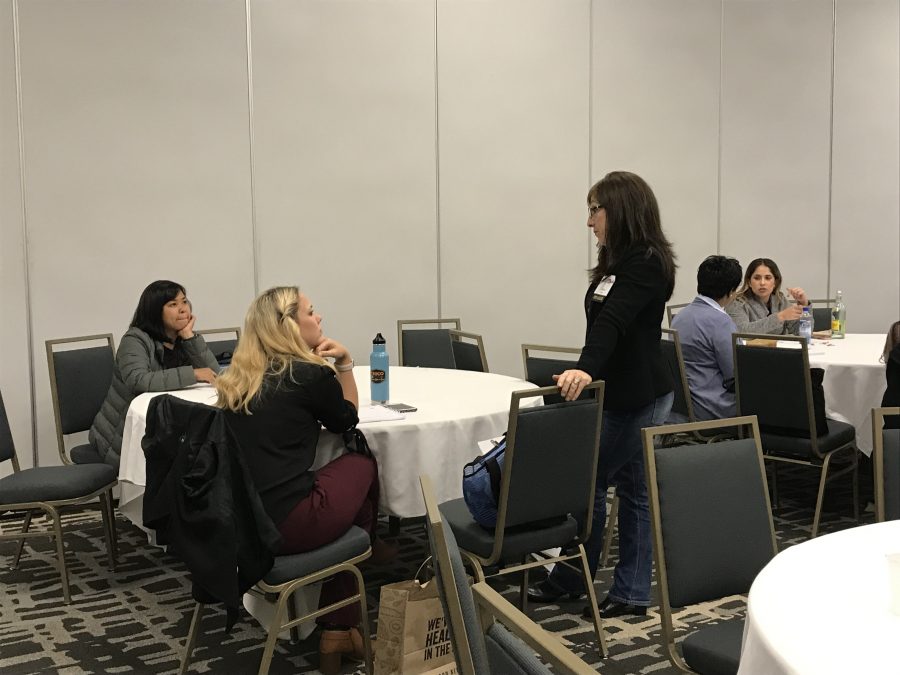 Following, there was rich discussion between the audience and panelists. Jo Ann said "When asked about how we keep staff motivated to pursue wellness when everyone is on a different page, I acknowledged the challenge and stated that you will never make everyone happy with the wellness activities you plan, but just keep trying different things, focus on creating a culture of wellness and asking other agencies for help and ideas. Just don't stop trying! I trust I planted some seeds that day."
Attendees also actively engaged in a breakout session to discuss opportunities to utilize the step-by-step process of creating a wellness program through Plan, Do, Act, and Assess. Robust discussion between attendee tables led to innovative strategies tailored to meet the needs of their workplaces. John stated that "Expert lead, informative, and hands-on are words I heard the audience vocalizing in our session." Attendees shared their strategies with the audience, including ways to engage staff in being more active throughout the workday and how to design effective incentive programs.
"I believe this event kicked off a new and collaborative chapter between Live Well @ Work and the California WIC Association to elevate its WIC Worksite Wellness Program to new heights." John Haubenstricker, American Red Cross WIC
Future Collaboration
Collaborative efforts between Live Well @ Work and the California WIC Association will continue into the future, including a statewide WIC staff survey, resource sharing on the WIC Worksite Page, and participation on the statewide WIC Wellness Coordinators conference calls. John echoed this sentiment saying  "I believe this event kicked off a new collaboration chapter between Live Well @ Work and the California WIC Association to elevate its WIC Worksite Wellness Program to new heights."
Live Well @ Work collaborates with local San Diego businesses to build a culture of health and foster a healthier, happier and more productive workforce. Live Well @ Work programs offer resources and best practices for San Diegans to build better health at work.
*Live Well @ Work is a program of Live Well San Diego: Healthy Works and implemented by the University of California, San Diego Center for Community Health. This work supports Live Well San Diego, the County of San Diego's vision for a region that is Building Better Health, Living Safely, and Thriving and is supported by USDA SNAP-Ed funds.
Author: Kelley Axelson, MPH, CHC