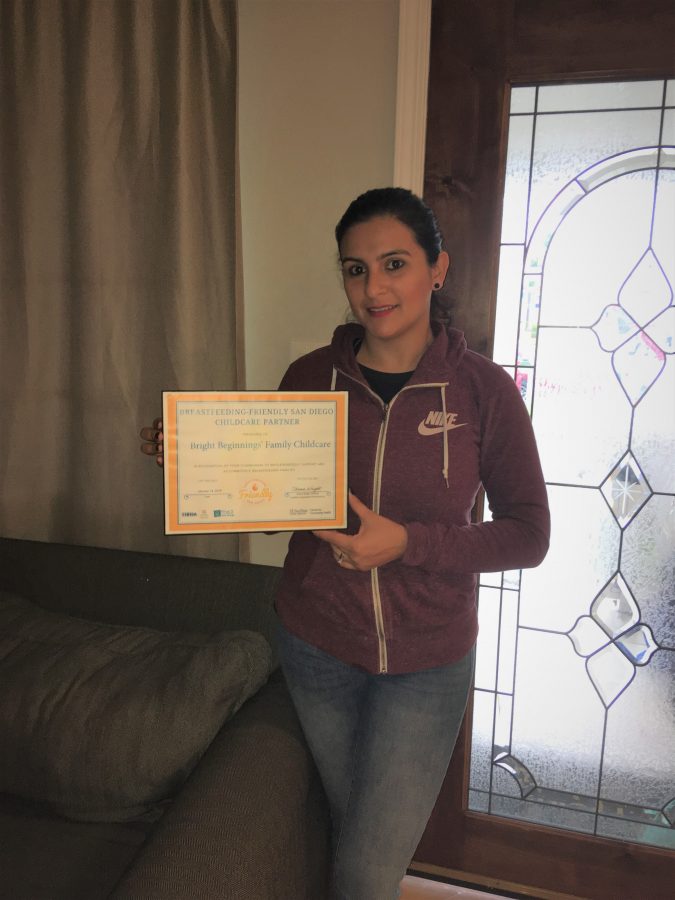 We applaud Ms. Talamante for dedicating her efforts to supporting babies having access to their "liquid gold" fluid, often referred to breastmilk. Congratulations Bright Beginnings on becoming a recognized Breastfeeding-Friendly San Diego (Pro-Lactancia) provider!
Ms. Reyna Talamante is committed to provide high quality care to the children and babies in her home childcare:  Bright Beginnings Family Childcare. As a young mother, she knows how important it is to support families to continue breastfeeding. Ms. Talamante views her role as a childcare provider as vital for the wellbeing of working families in our local communities.  Ms. Talamante believes when young families return to work, the right choice for each family needs to prioritize babies being able to keep receiving their breastmilk. All children deserve reliable nutrition, and at Bright Beginnings Family Childcare children receive the same vigilant attention as they would have in their own home. With Ms. Talamante, parents can rest assured that their children will receive high quality nutrition, educational curriculum, and well-trained personnel to care for them.
Aplaudimos a la Sra. Reyna Talamante por dedicar sus esfuerzos a ayudar a los bebés que tengan acceso a su "oro líquido," refiriéndose a la leche materna. ¡Felicidades a Bright Beginnings por convertirse en un proveedor reconocido de Pro-Lactancia (Breastfeeding-Freindly) San Diego!
La Sra. Talamante se compromete a brindar atención de alta calidad a los niños y a los bebés en su cuidado de niños: Bright Beginnings Family Childcare. Como madre joven, ella sabe de primera mano lo importante que es el ayudar a todas las familias para que puedan continuar amamantando. La Sra. Talamante considera que su papel como proveedora de cuidado de niños es vital para el bienestar de las familias trabajadoras en nuestras comunidades. La Sra. Talamante cree que cuando las familias jóvenes regresan al trabajo, la selección correcta de cuidado para los niños es crucial en cada familia, pues deben dar prioridad para que los bebés puedan continuar recibiendo su leche materna tanto como sea posible.
Todos los niños merecen una excelente nutrición y en Bright Beginnings Family Childcare, los niños reciben la misma atención que tendrían en su propia casa. Con la Sra. Talamante, los padres pueden estar seguros de que sus hijos recibirán nutrientes adecuados para su edad, ella se esmera en proveer cuidados para todos sus niños de alta calidad, cuenta con un currículo educativo y un personal bien capacitado para cuidarlos a cada paso de su desarrollo.