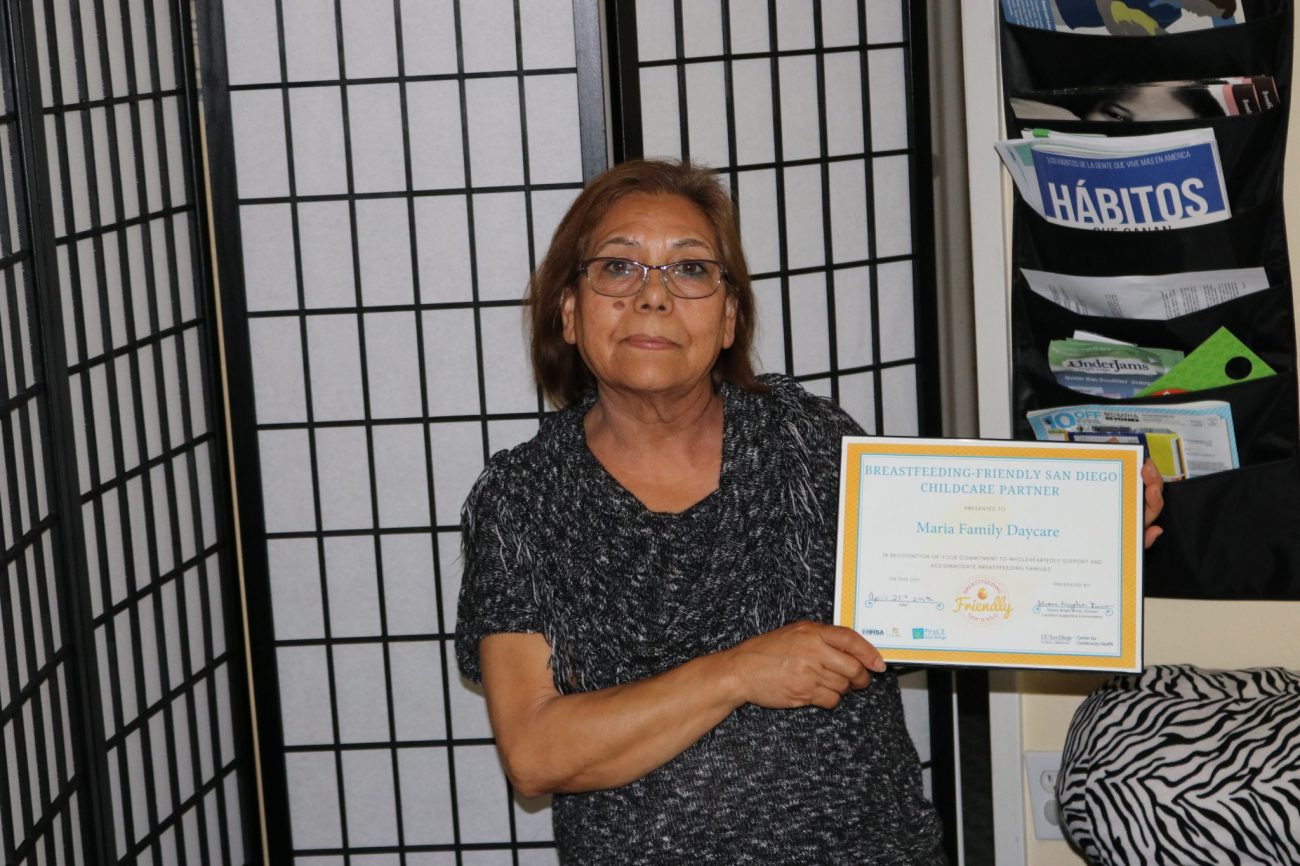 We congratulate Ms. Maria Hernández's Family Daycare for following all the steps to be designated as Breastfeeding Friendly (Pro –Lactancia) San Diego in our region!
Maria Hernández has been a champion for breastfeeding mothers at her family daycare. Ms. Hernandez often takes an extra step to encourage parents to get the most updated information about the best practices for feeding and nutrition. Mothers are welcome to breastfeed or pump on site anytime. She actively seeks instructive bi-lingual materials for all her families so that children have the best nutrition and grow healthy. She encourages other providers to take advantage of this program and shares her appreciation for in-person instruction and personal care under this program. This guides her to learn more about the best practices for the storage, feeding, and management of breastmilk. She embraces all educational materials for this and other health and wellness programs, in addition to being devoted to partner up with her families to enhance children's wellbeing under her care.
---
¡Felicitamos a Maria Hernández Family Daycare por adoptar y practicar todos los pasos para lograr ser designada como Pro – Lactancia (Breastfeeding-Friendly) San Diego en nuestra región!
María Hernández apoya a todas las madres tanto para amamantar a sus bebés como para extraer su leche materna en cualquier momento durante la estancia en su guardería. Anticipa como apoyar a los padres para que obtengan la información más actualizada sobre las mejores prácticas para la nutrición y desarrollo saludable de sus hijos.  La Sra. Hernández siempre está en búsqueda de información bilingüe actualizada que beneficie el bienestar de las familias. La Sra. Hernández alienta a otras proveedoras de cuidado de niños para aprovechar este programa. Ella nos comparte cuánto aprecia la instrucción y el cuidado personalizado que le sirvió de guía para aprender más sobre las mejores prácticas para el almacenamiento, la alimentación y el manejo de la leche materna. Ella aprovecha todos los materiales educativos para éste y otros programas en los que participa con entusiasmo para mejorar la salud de los niños bajo su cuidado.