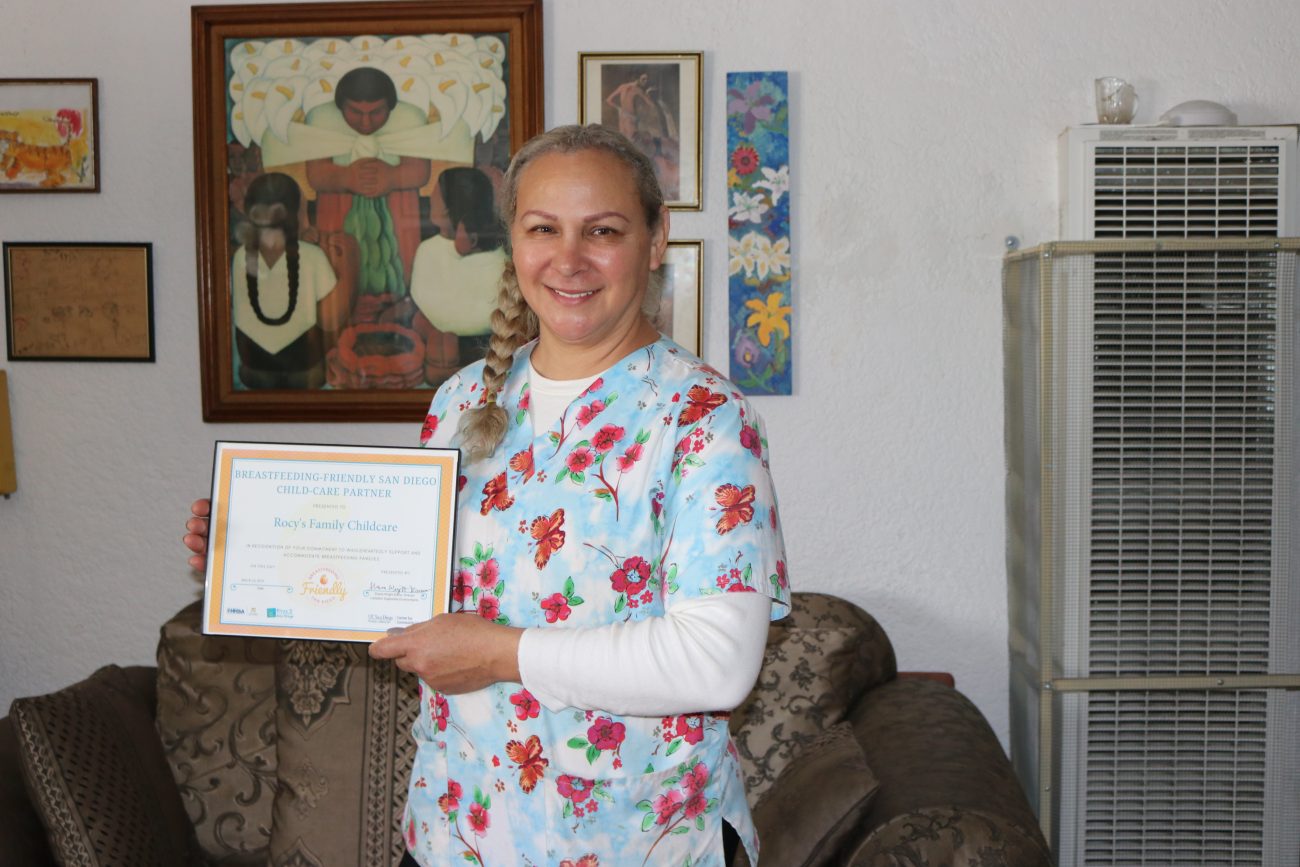 Congratulations Rocy's Family Childcare on becoming a recognized Breastfeeding-Friendly San Diego (Pro-Lactancia) provider! We hope to continue supporting childcare provider efforts to and working together as a team!
For over 17 years, Ms. Maria Castro has been dedicated to creating high quality care for families in our community.  Ms. Castro states: "I think that we create a strong partnership, so that we can intentionally use our common knowledge and resources to benefit children while they are at home with their parents and here under my care." Children can take naps at Rocy's Family Childcare in a warm and cozy environment, in part because Ms. Castro makes sure to keep well-organized family childcare practices to encourage healthy social interactions. Ms. Castro knows the significance of her support for young parents, she shares that "Working families have limited time to acquire information, attend classes, or access resources that make a difference in the health and wellness of their children. Therefore, our role is very important." She would like to have more marketing to encourage breastfeeding among families. Families are welcomed at Rocy's Family Childcare and children receive a solid foundation for health and for learning.
¡Felicitaciones a Rocy´s Family Childcare por convertirse en un proveedor reconocido de Pro-Lactancia (Breastfeeding Friendly) San Diego! Aplaudimos su empeño para continuar el apoyo a la lactancia materna entre todos los proveedores de cuidado de niños y así seguir trabajando juntos en equipo para el beneficio de nuestros bebés y familias.
Durante más de 17 años, la Sra. Maria Castro se ha dedicado a proveer la mejor calidad en todas sus atenciones para las familias en nuestra comunidad. En sus propias palabras, la Sra. Castro dice: "Creamos una fuerte asociación de equipo, para dirigir nuestros conocimientos y recursos comunes para el beneficio de nuestros niños, mientras están en casa con sus padres, al igual que cuando se encuentran en mi hogar y bajo mi cuidado." Los niños toman sus siestas, en un ambiente cálido y acogedor, pues en Rocy's Family Childcare la Sra. Castro siempre se asegura de mantener cuidadosamente sus horarios, muy bien organizados para así fomentar interacciones sociales, en las que los pequeños disfrutan un ambiente saludable.
La Sra. Castro conoce la importancia de su apoyo para las familias jóvenes y así nos comparte que "al estar trabajando las familias tienen muy poco tiempo para buscar información, asistir a clases, y acceso a recursos que pueden significar mejoras para la salud y el bienestar de sus hijos. Por eso, nuestro papel al cuidar a los niños es muy importante. Yo les doy la bienvenida en Rocy´s Family Childcare a todos los bebés lactando, pues aquí todos los niños reciben buenos principios para su salud y aprendizaje."  A ella le gustaría tener más publicidad fomentando la lactancia materna para todas las familias, pues conoce los beneficios a largo plazo.