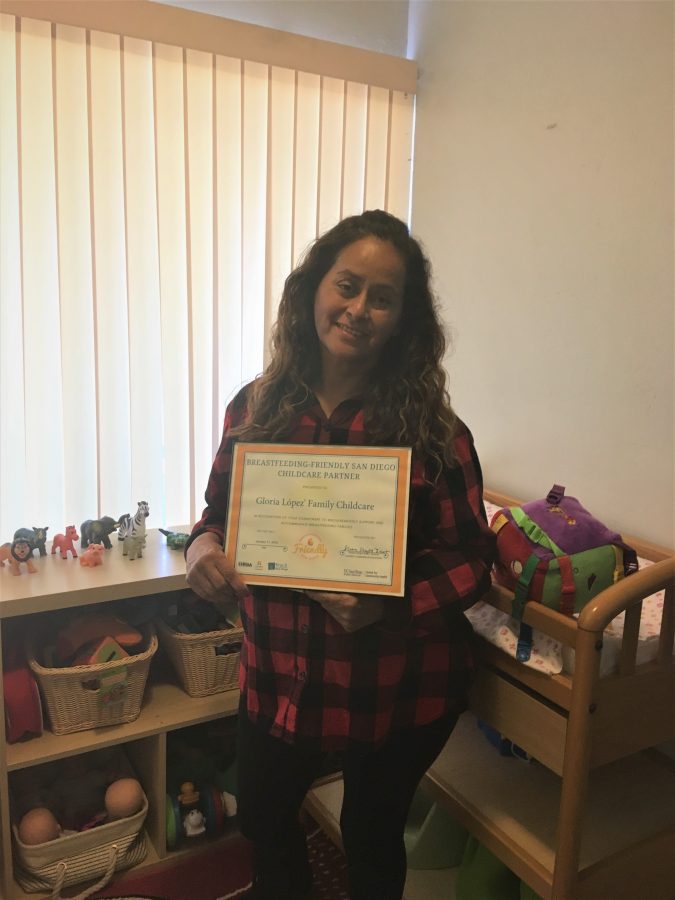 We thank Ms. Lopez for her efforts in promoting the importance of breastmilk and we congratulate her on becoming a Breastfeeding-Friendly San Diego (Pro-Lactancia) partner! She is now a recognized provider, and she promotes breastfeeding best practices at her center.
Barbara's Family Childcare is now open! With great anticipation, Ms. Gloria López is happy to provide a secure, safe, and nurturing environment for children and babies under her care. She has strong feelings about how important is to support working families in our communities to have peace of mind about their children's wellbeing.  Ms. López has been diligently enhancing her own knowledge about child development and nutrition to provide at her home a stable, reliable, and healthy place where children can flourish.
As a caregiver, she wants to support breastfeeding families so that they can continue to nurture and provide the best nutrition for their babies. Ms. López seeks to keep an environment that is playful, colorful, stimulating, and safe for children. She is ready to prepare healthy meals and support families in their children's development.
¡Agradecemos a la Sra. López por todos sus esfuerzos al promover la importancia de la leche materna y la felicitamos por convertirse en una socia designada Pro-Lactancia (Breastfeeding-Freindly) San Diego! Ahora como socia reconocida al promover las mejores prácticas para apoyar la lactancia materna en su centro.
¡La guardería familiar de Barbara abrió sus puertas! Y con gran anticipación, la Sra. Gloria López se complace en brindar un lugar seguro, cuidadosamente preparado para enriquecer la estancia de los niños y de los bebés bajo su cuidado. Ella está convencida de la importancia de apoyar a las familias trabajadoras en nuestras comunidades de una manera saludable y para que así los padres de familia, tengan tranquilidad con respecto al bienestar de sus hijos. La Sra. López se ha dedicado a mejorar diligentemente su propio conocimiento sobre el desarrollo infantil y la nutrición, pues de esta manera ella puede ofrecer en su hogar un lugar estable, confiable y saludable donde los niños puedan brillar y desarrollarse plenamente.
Como proveedora, quiere apoyar a todas las familias para que amamanten con leche materna y de esta manera puedan proveer continuamente la mejor nutrición para sus bebés. La Sra. López tiene listo un ambiente seguro, alegre, colorido e invitante para los niños. Barbara's family childcare está lista para preparar comidas saludables y apoyar a las familias en el desarrollo de sus hijos.