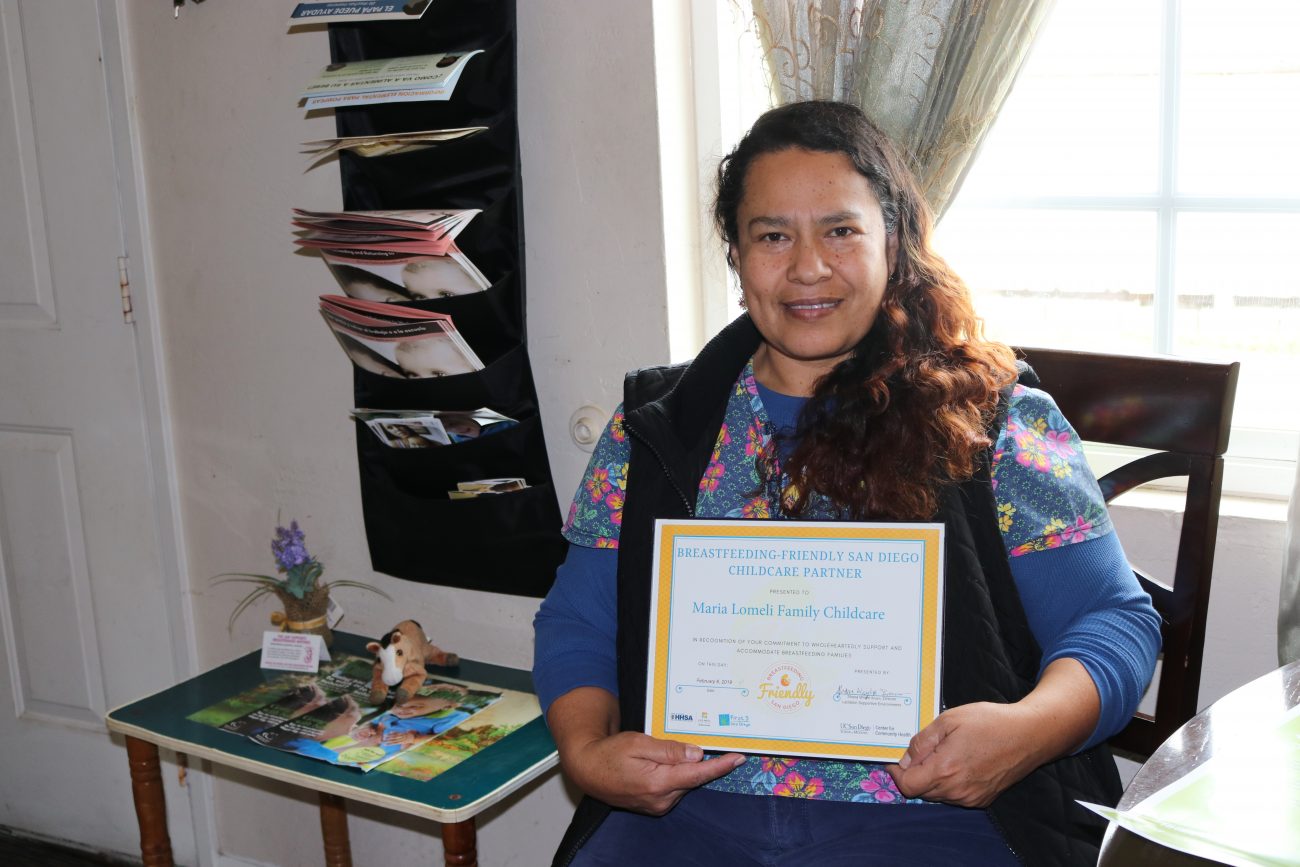 Maria Lomeli's Family Childcare has obtained the recognition as a Breastfeeding-Friendly San Diego (Pro-Lactancia) partner, and we applaud all her efforts to provide the best quality care for our community!
Since 2014, Ms. Maria Lomeli has been providing childcare services to our families. Ms. Lomeli is very excited to keep updating her knowledge about the best nutrition and practices so that she can share this information with parents who trust their children under her care. Ms. Lomeli states: "My love for the children is what motivates me to keep investing on taking classes and learning more, because I know that each healthy baby grows into a playful child who then fully develops into a young adult. Every parent deserves to be part of a team that help their family's well-being." Ms. Lomeli knows that breastfeeding families experience obstacles when they return to work and she views her role as a childcare provider as a crucial one in supporting the efforts of those parents. She ensures that high quality nutrition, fun playtime, and educational resources are always delivered in her home.  She is always willing to go the extra-mile to enhance the wellbeing of the children and families.
¡Maria Lomelí Family Childcare ha obtenido el reconocimiento como socio de Pro-Lactancia (Breastfeeding-Friendly) San Diego! Con mucho gusto le aplaudimos a la Sra. Lomelí en todos sus esfuerzos, siempre dedicados para brindar la mejor calidad en la atención para los niños a nuestra comunidad.
Desde el 2014, la Sra. Maria Lomelí ha brindado servicios de cuidado de niños a familias en su hogar, cálida y cuidadosamente. La Sra. Lomelí está muy entusiasmada y siempre sigue actualizando sus conocimientos sobre la nutrición y las mejores prácticas para el desarrollo de los niños. Ella quiere poder compartir información actual y relevante con los padres que le confían el cuidado de sus hijos.
La señora Lomelí dice: "La verdad es mi amor por los niños, eso lo que me motiva a seguir invirtiendo en tomar clases y siempre aprender más, porque yo sé muy bien que cada bebé sano se convierte en un niño juguetón y contento, y que luego se convierte en un/a joven, adulto/a saludable y productivo/a. Todas las familias se merecen el formar parte de un equipo, en el que se ayuden mutuamente para el bienestar de sus niños." La señora Lomelí sabe que las familias que amamantan experimentan múltiples obstáculos cuando regresan al trabajo, así que ella considera que gran parte de su tarea como proveedora de cuidado de niños, es esencial para apoyar todos esos esfuerzos de los padres de familia. Ella se asegura con gusto que toda la nutrición administrada en su hogar sea de alta calidad. Proporcionando en su hogar tiempos divertidos de juego saludables y recursos educativos para todas las edades. En su hogar, la señora Lomelí siempre está dispuesta a hacer cualquier esfuerzo necesario para mejorar el bienestar de los niños y de las familias.