Breastfeeding Friendly San Diego Partner Highlight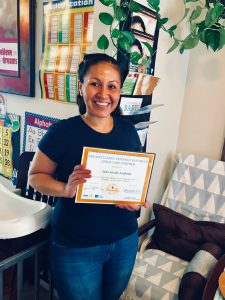 Dulce Villagomez is the owner of Little Hands Academy and has been in business since early last year. Ms. Villagomez made the choice to open a family child care home because of her love for children. Little Hands Academy is a place for children to flourish and grow as Ms. Villagomez places an emphasis on all aspects of child development. She strives to provide care that focuses on social-emotional, cognitive, physical, and language growth for all of her clients.
Ms. Villagomez's dedication to serve her clients and provide the best environment possible is evident through her completion of the Breastfeeding-Friendly San Diego program. In addition to the extensive training that will ensure she is prepared to support her breastfeeding clients, Ms. Villagomez is also pursuing her degree in Child Development. With the completion of her degree in Child Development, Ms. Villagomez has an interest in teaching at the preschool level.
Completing the Breastfeeding-Friendly San Diego program was important to Ms. Villagomez because she "want[s] parent's to feel more comfortable and safe leaving their babies in my care". Ms. Villagomez recommends that training to other providers and says "The program is worth the time. It provides a lot of great information". For many breastfeeding mothers it can feel nerve-racking to leave their child; at Little Hands Academy parents can feel secure in knowing that Ms. Villagomez is providing the best care for breastfed babies.
For program funding information, please see Breastfeeding-Friendly San Diego