Strawberries are in-season in the spring. They taste the best and cost the least during the spring. Check out these yummy recipes!
---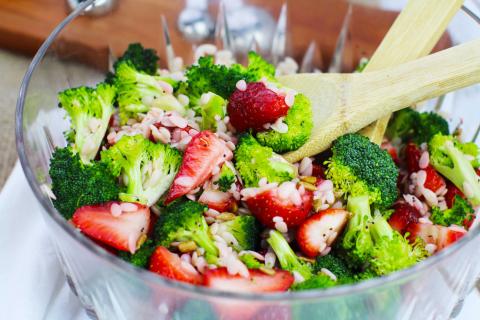 Broccoli Strawberry Orzo Salad
Fresh broccoli and strawberries are colorful additions to this refreshing summer delight. Lemon dressing brings a bright flavor to this pasta dish.
Ingredients
3/4 cup orzo pasta (uncooked)
2 cup fresh broccoli (chopped)
2 cup fresh strawberries (diced)
1/4 cup sunflower seeds
Lemon Poppy Seed Dressing:
1 tablespoon lemon juice (fresh or bottled)
2 tablespoon apple cider vinegar
2 tablespoon olive oil
1 teaspoon sugar (or honey)
poppy seeds (1 teaspoon, optional)
Directions
1. Cook orzo pasta according to directions. Drain and rinse with cold water.
2. In a large bowl, combine orzo pasta, broccoli, strawberries, and sunflower seeds. Drizzle with lemon poppy seed vinaigrette and toss to combine.
3. Season with salt and pepper. Chill in refrigerator until ready to serve.
---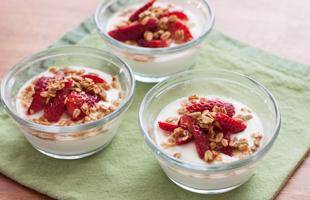 Crunchy Berry Parfait
So quick, so easy, and so delicious! This parfait is a favorite among kids and adults alike. Use soy yogurt instead of regular yogurt for those who can't have dairy.
Ingredients
1/2 cup yogurt, non-fat vanilla
1 cup blueberries or strawberries (fresh or frozen thawed)
1/2 cup low-fat granola (or crunchy cereal)
Directions
Spoon yogurt into glass, then top with fruit and granola.
Notes
Can use fortified soy yogurt
1/4 cup blueberries and 1/4 cup strawberries used for nutrition analysis.
Frozen berries used for costing.
---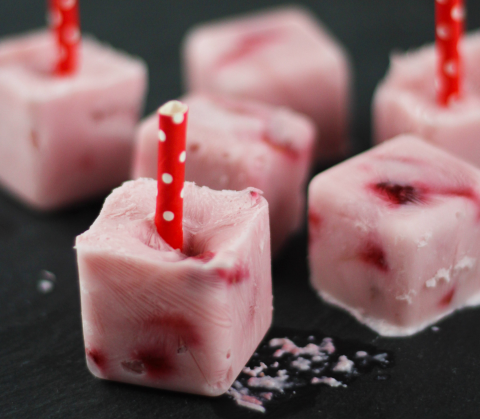 Strawberry Yogurt Pops
Strawberries and yogurt are all you need for this healthy frozen snack! They're a great after school snack or late night dessert!
Ingredients
1 cup low-fat strawberry yogurt
6 large strawberries
1 ice cube tray (or paper cups)
Directions
Cut strawberries into small pieces.
Mix fruit and yogurt.
Divide into 4 small paper cups (or 8 ice cubes) and place in popsicle sticks (or cut paper straws).
Freeze.
Enjoy as a frozen treat!
Notes
Create your own yogurt pops and experiment with different flavors
---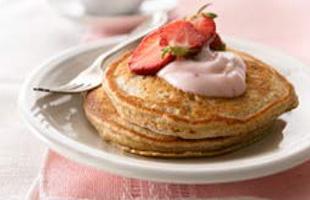 Whole Grain Strawberry Pancakes
Whole wheat flour adds a nutty flavor and texture to these great-tasting pancakes. Dish these up with berries and a glass of milk on the side for a wholesome start to your day!
Ingredients
1 1/2 cup whole wheat flour
3 tablespoon sugar
1 teaspoon baking powder
1/2 teaspoon baking soda
1/2 teaspoon salt
3 eggs
1 container vanilla low-fat yogurt (6 oz)
3/4 cup water
3 tablespoon canola oil
1 3/4 cup sliced fresh strawberries
1 container strawberry low-fat yogurt (6 oz)
Directions
1. Heat griddle to 375°F or heat 12-inch skillet over medium heat. Grease with canola oil if necessary (or spray with cooking spray before heating).
2. In large bowl, mix flour, sugar, baking powder, baking soda and salt; set aside.
3. In medium bowl, beat eggs, vanilla yogurt, water and oil with egg beater or wire whisk until well blended.
4. Pour egg mixture all at once into flour mixture; stir until moistened.
5. For each pancake, pour slightly less than 1/4 cup batter from cup or pitcher onto hot griddle. Cook pancakes 1 to 2 minutes or until bubbly on top, puffed and dry around edges. Turn; cook other sides 1 to 2 minutes or until golden brown.
6. Top each serving (2 pancakes) with 1/4 cup sliced strawberries and 1 to 2 tablespoons strawberry yogurt.
---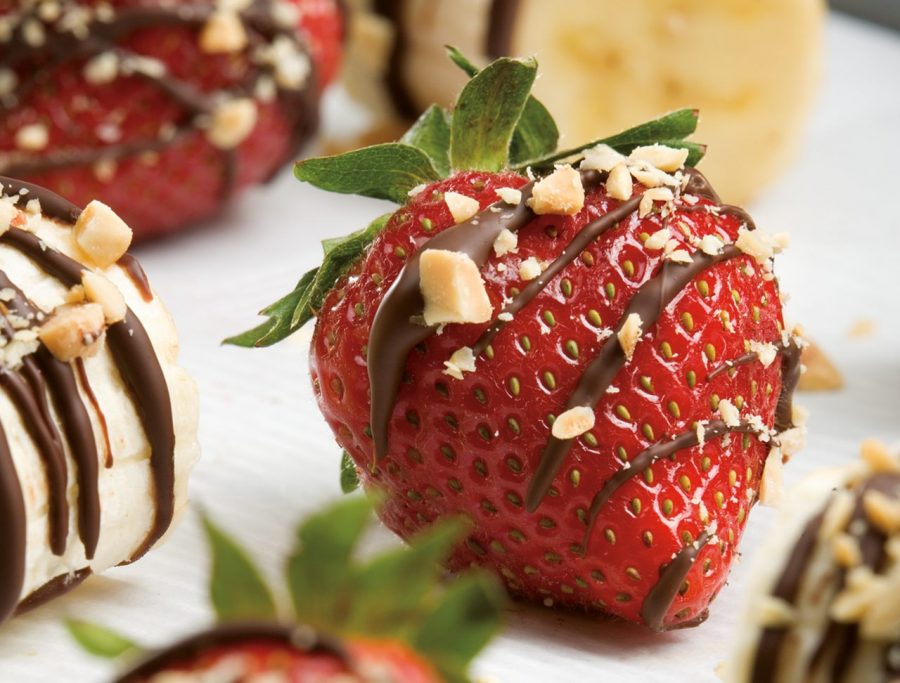 Fudgy Fruit
Fruit, nuts, and chocolate. Do we need to say more?
Ingredients
2 teaspoon chocolate chips (semi-sweet)
2 banana (large, peeled and cut into quarters)
8 strawberries (large)
1/4 cup peanuts (chopped, unsalted)
Directions
1. Place chocolate chips in a small microwave safe bowl. Heat on high for 10 seconds and stir. Repeat until chocolate is melted, about 30 seconds.
2. Place fruit on a small tray covered with a piece of waxed paper. Use a spoon to drizzle the melted chocolate on top of the fruit.
3. Sprinkle the fruit with chopped nuts.
4. Cover the fruit and place in the refrigerator for 10 minutes or until the chocolate hardens. Serve chilled.
---