What are Lessons in the Classroom?
Harvest of the Month lessons in the classroom showcase a seasonal fruit or vegetable by conducting a taste test and lesson that encourages students to explore, taste, and learn about the importance of eating fruits and vegetables and being active every day.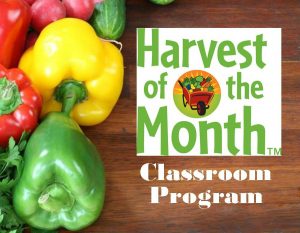 What Should I Know About Lessons in the Classroom?
Lessons are intended to be conducted monthly.
Lessons are available for grades K-6.
Lessons can be adapted to preference.

The minimum recommended lesson is 15 minutes.
Resources are available to add more activities to each lesson.
Lessons in the classroom can have a broader impact when information is shared with parents.

Inform families that your classroom will be implementing Harvest of the Month taste tests and lessons monthly by sending them the Family Letter
Send families the Family Newsletter each month. Each produce on the Calendar features a Family Newsletter in English and Spanish. Some Family Newsletters are also available in Chinese, Hmong, and Russian.
---
What is Included in Each Lesson in the Classroom?
Each lesson can be implemented in 5 steps. The following resources are available for each fruit and vegetable featured on the Harvest of the Month Calendar for San Diego County.
Show the Video
Conduct the Taste Test
Discuss 'Rate the Taste'
Implement Workbook Lessons
Add Other Resources & Activities