Tailor the Breastfeeding-Friendly symbol for your organization!
All of the Breastfeeding-Friendly Program symbols are available for free download and are modifiable for use in your specific organization, industry, or area! The below page offers all of the information you'll need to download, customize, and utilize these materials.
---
Creating a customized breastfeeding-friendly symbol can be done in three simple steps
 Determine the text size of your organization, city, or industry
 Select and download the appropriate symbol (with Pro-Lactancia banner or not)
 Modify, save, and upload the logos to your materials!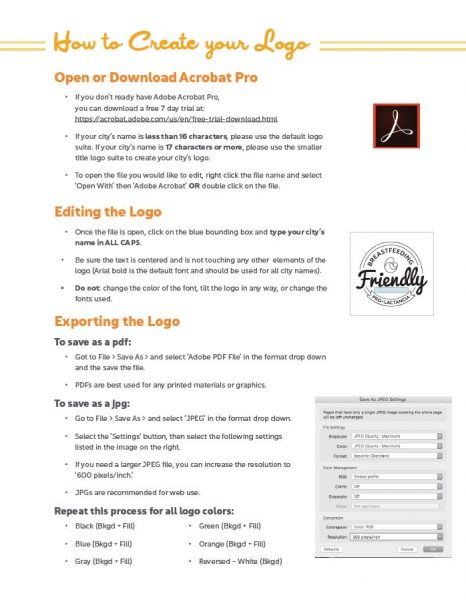 How to Create Your Logo (English/Spanish)
This one pager walks users through how to modify the Breastfeeding-Friendly symbol to reflect their organization, industry, or area
Download
---
Modifiable Symbols
In the resources below you will find all of the modifiable symbols you will need to brand your Breastfeeding-Friendly program. Resources are organized by adaptable character size and language, with options for Spanish banners and long names.
---