Welcome to the Breastfeeding-Friendly Childcare training resources page. The below videos and supplemental materials will teach you how to support breastfeeding in childcare for both families and employees.
---
The Breastfeeding-Friendly Childcare Training Course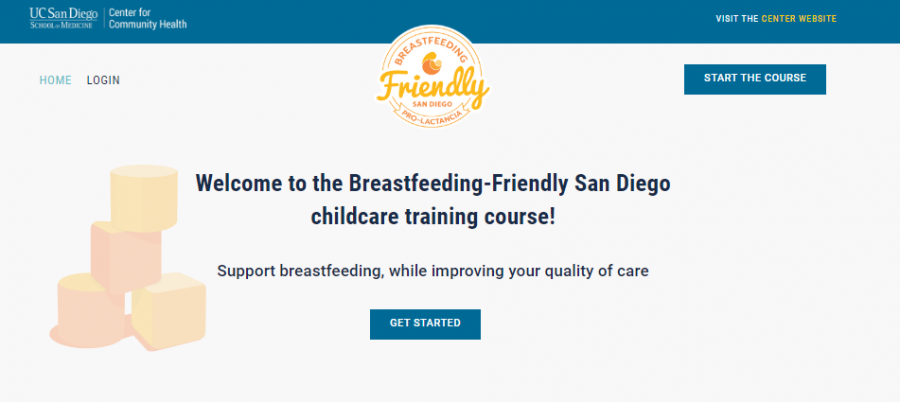 This interactive training course equips users with all of the knowledge and skills necessary to implement breastfeeding-friendly practices in their childcare. Designed for both family childcare homes and childcare centers, this free training course fulfills the training requirements for the Breastfeeding-Friendly San Diego recognition and can be used as professional hours for anyone with a Child Development Permit!
---
Breastfeeding-Friendly Childcare Training Videos
Below you will find the four Breastfeeding-Friendly Childcare training videos and associated resources.
---
1. The Benefits of Breastfeeding
In this first video you'll learn about: breastfeeding and its benefits, the difference between formula and breast milk, and the value of being a breastfeeding-friendly childcare
Dar Pecho y Volver Al Trabajo o a La Escuela PDF
---
2. Creating a Breastfeeding-Friendly Childcare
In this video you'll learn how to create a breastfeeding-friendly childcare by following the Building Blocks to Breastfeeding-Friendly.
---
3. Handling and Storing Breast Milk
In this video you will learn how to properly handle, store, and prepare breast milk for a childcare site. The guidelines discussed in this video follow the Child and Adult Care Food Program (CACFP).
---
4. Paced Bottle Feeding
In this video you'll learn how to implement paced bottle feeding practices.
---
Breastfeeding-Friendly San Diego (BFSD) is a project of Live Well San Diego: Healthy Works and implemented by UC San Diego Center for Community Health. This work supports Live Well San Diego, the County vision of a region that is Building Better Health, Living Safely, and Thriving. BFSD is made possible with funding from First 5 San Diego through the County of San Diego Health and Human Services Agency.